01.09.2017 | Intensivmedizin | Ausgabe 4/2017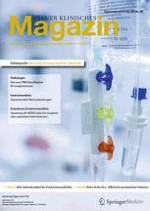 Nierenersatztherapie im akuten Nierenversagen
Zeitschrift:
Autoren:

Dr. Sebastian J. Klein, Prof. Dr. Michael Joannidis
Wichtige Hinweise
Dieser Beitrag wurde in der Zeitschrift
Medizinische Klinik – Intensivmedizin und Notfallmedizin
2017 · 112:437–443, DOI
10.​1007/​s00063-017-0290-0
erstveröffentlicht. Dort ist der Beitrag als open access Publikation auch kostenlos zugänglich und nutzbar. Zweitpublikation mit freundlicher Genehmigung der Autoren.
Zusammenfassung
Das akute Nierenversagen stellt weiterhin eine sehr häufige Komplikation auf Intensivstationen dar, die mit signifikant erhöhter Morbidität und Mortalität verbunden ist. Verschiedene Therapiekonzepte, wie die kontinuierliche Nierenersatztherapie oder (modifizierte) intermittierende Verfahren, unterschiedliche Methoden der Antikoagulation sowie die generelle Entscheidung über den idealen Zeitpunkt des Therapiebeginns stellen das Behandlungsteam vor viele Entscheidungen. Im Jahr 2016 gaben die deutsche ELAIN-Studie ("early versus late initiation of renal replacement therapy in critically ill patients") und die französische AKIKI-Studie ("the artificial kidney initiation in kidney injury") einige Klärung zum Thema Initiierung der Nierenersatztherapie. Allerdings warfen diese auch gleichzeitig wieder neue Fragen auf. Die sich in der Rekrutierungsphase befindliche STARRT-AKI-Studie ("standard versus accelerated initiation of RRT in acute kidney injury") sollte hier für Klarheit sorgen, allerdings sind die Ergebnisse frühestens im Jahr 2020 zu erwarten. In Bezug auf die Beendigung der Nierenersatztherapie kann weiterhin eine wiedereinsetzende Spontandiurese von mehr als 450 ml/24 h als Indikator für die sich erholende Nierenfunktion angesehen werden.