01.05.2016 | ICS congress 2015 | Sonderheft 2/2016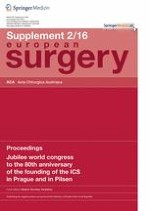 New experience with the integrated and hybrid operating room at the Department of General, Visceral and Thoracic surgery
Zeitschrift:
Autoren:

K-H. Dietl, K. Novák, E. M. Bothe, H. Schönberger
Wichtige Hinweise
Authors' declaration.
The authors warrant that the article is original and is not under consideration by any other journal, and has not been previously published.
The supplement is dedicated to
Jubilee World congress of International College of Surgeons 2015
.
The publishing was sponsored by the Ministry of Health of the Czech Republic.
Summary
Introduction
Since October 2014 the integrated and hybrid operating room (OR) is used in our institution. We would like to report our first experience with this operating room.
Methods
Nowadays, there are four indications for using the integrated and hybrid operating room in our hospital.
1.
Acute mesenteric infarction.
2.
Radiofrequecy ablation (RFA) of liver metastases, which are not sensitive to ultrasound and are localised next to great blood vessels.
3.
Wedge resection of lung metastases, which are not depicted radiologically, especially when they are not located superficially.
4.
Cases that require a CT scan after the laparoscopic operation because of their small size.
Results
There are the special cases presented in which the hybrid and operating room can be used.
Conclusion
The integrated and hybrid operating room facilitates performing the operation, makes it faster, brings better results, reduces complications and increases comfort of the surgeons.