13.12.2018 | review | Ausgabe 9-10/2019 Open Access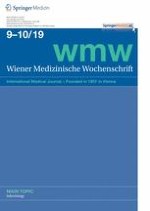 Nerve grafting for peripheral nerve injuries with extended defect sizes
Zeitschrift:
Autoren:

Tim Kornfeld, Peter M. Vogt, MD, PhD Christine Radtke
Wichtige Hinweise
Tim Kornfeld, Peter M. Vogt and Christine Radtke contributed equally to this work.
Abbreviations
CMAP
Compound action potentials
CSPGs
Chondroitin sulfate proteoglycans
FDA
US Food and Drug Administration
MHC
Major histocompatibility complex
Introduction
Material and methods
Including criteria
Only scientific work in regard to peripheral nerve regeneration/reconstruction was included. Main criteria was a surgical nerve reconstruction in small/large animal models with artificial/non-artificial nerve grafts on nerve defect sizes ≥4.0 cm.
Matches
In all, 30 original articles met the inclusion criteria of nerve reconstruction on nerve defects ≥4.0 cm. Four records were excluded after identified as duplicates. Two article were removed due to incomparable methods.
Literature search
A literature search was performed via PubMed and Google Scholar. A key word search was performed using the following: "long gap nerve defects", "extended nerve defects", "reconstruction of extended nerve defects", "critical sized nerve defects", "nerve defects in large animal models".
Current experimental approaches in peripheral nerve reconstruction
Conclusion
Translation to clinical practice
Ongoing developments in peripheral nerve surgery are auspicious. Allografts are nearly a perfect alternative to the current gold standard technique, especially because immunosuppression is not indicated anymore to avoid a foreign body reaction. Nerve grafting with cell suspensions e. g. with Schwann cells shows promising results on small defect sizes in animals but is limited on translation to human organism by highly regulated local laws for transplantation of human stem cells. Muscle grafts and mono channeled nerve grafts are not appropriate for reconstruction of long gaped peripheral nerve defects. Nerve reconstruction with biomaterials like spider silk are as good as the autologous gold standard. Research is still ongoing and transfer to the human organism is pending.
Research approaches
A literature search demonstrated that scientific approaches and animal models in peripheral nerve surgery are extremely versatile with the result of limited and impeded possibilities of comparison. Scientists in the field of peripheral nerve surgery should focus on comparable approaches regarding animal models and methods to produce comparable and competitive results. Nevertheless most reviewed approaches are promising regarding future clinical translation. Especially the transplantation of autologous donor cells and factors within artificial and non-artificial nerve grafts might be advantageous in future settings.
Effect on daily medical practice
The autologous nerve graft is still and with good reason the gold standard for reconstruction of peripheral nerve tissue. Nevertheless autologous donor material is highly limited in number and often mismatch the nerve defects of the reconstruction side. Especially multiple long gaped plexus injuries are challenging during reconstruction. Furthermore the donor side morbidity after autograft harvest can lead to post-operative complications e. g. with neuroma formation, permanent sensitivity loss and adherent scars. Obviously autologous donor harvest is limited. In those surgical settings with limited availability of donor tissue the use of artificial nerve grafts should be recommended for peripheral nerve defects <3.0 cm. Both artificial nerve graft e. g. NeuroGen®, Neurotube®, Neurolac® and nerve allografts e. g. AxoGen® Avance can be recommended as alternative approaches for nerve reconstruction after literature analysis. Translational and alternative approaches for the reconstruction of long gaped defect sides are desperately needed. Especially the cell free approaches including allografts or spider silk nerve implants could be a contemporary and sufficient transfer technology beside neurotization until cell based procedures are safe and a statutory basis is set.
Funding
This work was funded by the Volkswagen Foundation.
Conflict of interest
T. Kornfeld, P.M. Vogt, and C. Radtke declare that they have no competing interests.
Open Access
This article is distributed under the terms of the Creative Commons Attribution 4.0 International License (
http://​creativecommons.​org/​licenses/​by/​4.​0/​
), which permits unrestricted use, distribution, and reproduction in any medium, provided you give appropriate credit to the original author(s) and the source, provide a link to the Creative Commons license, and indicate if changes were made.