28.05.2018 | original article | Ausgabe 11-12/2018 Open Access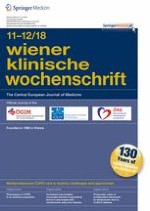 Multiprofessional COPD care in Austria–challenges and approaches
Results of a qualitative study
Zeitschrift:
Autoren:

MPH MA Firuzan Sari Kundt, Nina Enthaler, Anna Maria Dieplinger, Michael Studnicka, Anna Knoll, Jürgen Osterbrink, Tim Johansson, Maria Flamm
Summary
Background
Chronic obstructive pulmonary disease (COPD) is a frequent disease of the lungs. Its prevalence was estimated to be 26% in the Global Initiative for Chronic Obstructive Lung Disease (GOLD) I and 11% for GOLD II–IV in Austria. Globally, it ranks third in mortality rate. The particular challenge is that care for these patients falls short due to the lack of structured integrated care. The aim was to assess the current status of multiprofessional COPD care in Austria and identify gaps and potentials.
Methods
We conducted guided focus group interviews between March and July 2016 addressing current COPD care and treatment gaps with the following professional and interest groups: general practitioners, nurses, patients, pharmacists, physiotherapists and pulmonologists. We interviewed 23 patients and 27 healthcare professionals. The interviews were transcribed verbatim and coded into 12 relevant categories.
Results
There needs to be a shift in thinking from treatment-based care to prevention. Patients, just like healthcare professionals, need periodic updates and comprehensive information on this disease. Creating internet platforms with useful information for COPD patients and solving the data privacy issues of the Austrian electronic medical record (ELGA) are also perceived as viable steps. There is a need and request for healthcare professionals to work as a team with clear COPD management guidelines in the outpatient sector, the establishment of outpatient rehabilitation centers as well as creating a new professional profile, the COPD nurse.
Conclusion
Current COPD care needs to be reorganized, particularly in the outpatient sector, to address the needs of patients and healthcare professionals.