04.09.2017 | original scientific paper | Ausgabe 5/2017 Open Access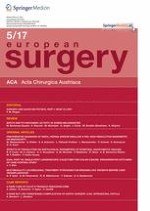 Multimodality locoregional treatment strategies for bridging HCC patients before liver transplantation
Zeitschrift:
Autoren:

MD Georg P. Györi, D. Moritz Felsenreich, Gerd R. Silberhumer, Thomas Soliman, Gabriela A. Berlakovich
Summary
Background
It is current practice that patients with hepatocellular carcinoma (HCC) listed for liver transplantation should receive locoregional treatment if the suspected waiting time for transplantation is longer than 6 months, even in the absence of prospective randomized data. Aim of this study was the comparison of single versus multimodality locoregional treatment strategies on outcomes after liver transplantation.
Methods
This is a retrospective analysis of 150 HCC patients listed for liver transplantation at our center between 2004 and 2011. Outcomes were analyzed according to modified Response Evaluation Criteria in Solid Tumors (mRECIST) in relation to intention-to-treat and overall survival after liver transplantation.
Results
Overall, 92 patients (63%) were transplanted in this cohort. The intention-to-treat 1‑, 3‑, 5‑year waiting list survival was 80, 59, and 50% respectively. In RFA-(radiofrequency ablative) and TACE-(transarterial chemoembolisation)-based regimens, rates of transplanted patients were comparable (69 vs. 58%,
p
= ns). No difference was seen in overall survival after liver transplantation when comparing TACE- and RFA-based regimens. Patients receiving multimodality locoregional therapy had lower overall survival after transplantation (
p
= 0.05)
Conclusion
TACE- and RFA-based regimens showed equal outcomes in terms of transplantation rate, tumor response, and post-transplant survival. Patients in need of more than one treatment modality might identify a cohort with poorer post-transplant survival.
Points of novelty
Direct comparison of TACE and RFA in a multimodality setting, analysis according to mRECIST.