14.05.2020 | Morbus Crohn | Originalien | Ausgabe 2/2020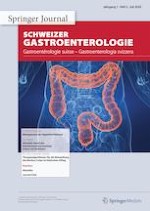 Therapiealgorithmen für die Behandlung des Morbus Crohn im klinischen Alltag
Zeitschrift:
Autoren:

PD Dr. med. Michael Christian Sulz, Joel Duetschler, Frank Seibold
Wichtige Hinweise
M.C. Sulz und J. Dütschler trugen gleichermassen zu dieser Publikation bei.
M.C. Sulz et J. Dütschler ont contribué à parts égales à cette publication.
M.C. Sulz e J. Dütschler hanno contribuito in egual misura a questa pubblicazione.
M.C. Sulz and J. Dütschler contributed equally to this publication.
Zusammenfassung
Die Therapie des oft schubförmig verlaufenden und nicht heilbaren Morbus Crohn ist komplex und sollte auf den einzelnen Patienten individuell abgestimmt werden. Gerade komplizierte Verläufe (z. B. mit komplexer perianaler Fistelbildung) sind anspruchsvolle Situationen im klinischen Alltag. Das medikamentöse Therapiearmamentarium wurde in den letzten Jahren durch neue Wirkstoffe erweitert, die nun auch in den internationalen Richtlinien positioniert werden. Trotz der individualisierten Therapie ist es im klinischen Alltag hilfreich, Algorithmen zur besseren Entscheidungsfindung beiziehen zu können. In dieser Arbeit werden 3 Algorithmen zu verschiedenen klinischen Szenarien in der Therapie des Morbus Crohn mit dem Fokus auf die endoluminale Inflammation präsentiert und die neuen Therapieoptionen in diesen Algorithmen positioniert.