01.09.2013 | short review | Ausgabe 3/2013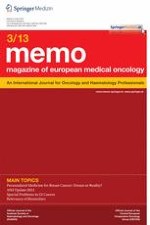 Molecular therapies of colorectal cancer: where will we go from here?
Zeitschrift:
Autor:

MD Gerald Prager
Abstract
Until the late 1990's colorectal cancer had a poor prognosis with a median survival of 12 months for metastatic disease. The discovery of molecular mechanisms for malignant transformation, tumor growth, angiogenesis, and metastasis formation have opened an abundance of biologic insights and subsequent therapeutic approaches, which have led to improved prognosis in many cancers, among them colorectal cancer. While inhibition of vascular endothelial growth factor (VEGF) either by blocking antibodies or synthetic soluble receptor fragments—the so-called VEGF-traps—have been shown to be beneficial when combined with chemotherapy, blocking antibodies against the epidermal growth factor receptor (EGFR) have revealed cytotoxic activity as monotherapy or in combination with chemical agents. Recently, the tyrosine kinase inhibitor regorafenib has been shown to be beneficial as a monotherapy in the salvage treatment setting for metastatic colorectal cancer (mCRC) patients. However, as major driver mechanisms for malignant transformation in colorectal cancer have so far not been accounted, we may expect an abundance of novel therapeutic options in CRC. In this review, novel promising therapeutic approaches will be outlined.