01.12.2014 | short review | Ausgabe 4/2014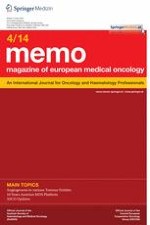 Melanoma 2014—an update
Zeitschrift:
Autor:

MD ao. Univ.-Prof. Dr. Georg Weinlich
Abstract
The incidence of cutaneous melanoma has been increasing worldwide. Although only 5% of all skin cancers are cutaneous melanoma, more than 90% of all skin cancer-related deaths are attributed to this tumour. The prognosis of metastatic melanoma remains poor with conventional chemotherapy, with survival rates between 6 to 9 months. Even combination regimes (polychemotherapy, poly-chemo-immunotherapy) failed to show a significant survival benefit.
In the past 10 years, major efforts and advances have been made in the understanding of the biology of melanoma. These findings led to the development of new therapeutic agents that revolutionized the treatment of advanced melanoma: Immunotherapies that influence the immune checkpoint molecules (CTLA-4, PD1, PDL1) and targeted therapies blocking the MAPK (mitogen-activated protein kinase) signalling pathway (BRAF, MEK). For the first time in the history of melanoma, these drugs demonstrably prolong progression-free survival (PFS) and overall survival (OS). Meanwhile, we are aware of the fact that immune checkpoint inhibitors can induce longterm responses, but only in a low percentage of patients, whereas the new targeted therapies have a quick effect in the majority of patients, but most of them relapse after a certain time, due to acquired or pre-existing resistance. So, the next years will be characterized by efforts to overcome resistance mechanisms and by combining these new drugs.