12.06.2020 | main topic | Ausgabe 13-14/2020 Open Access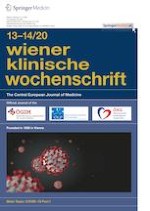 Management of patients with SARS-CoV-2 infections and of patients with chronic lung diseases during the COVID-19 pandemic (as of 9 May 2020)
Statement of the Austrian Society of Pneumology (ASP)
Zeitschrift:
Autoren:

Holger Flick, Britt-Madelaine Arns, Josef Bolitschek, Brigitte Bucher, Katharina Cima, Elisabeth Gingrich, Sabin Handzhiev, Maximilian Hochmair, Fritz Horak, Marco Idzko, Peter Jaksch, Gabor Kovacs, Roland Kropfmüller, Bernd Lamprecht, Judith Löffler-Ragg, Michael Meilinger, Horst Olschewski, Andreas Pfleger, Bernhard Puchner, Christoph Puelacher, Christian Prior, Patricia Rodriguez, Helmut Salzer, Peter Schenk, Otmar Schindler, Ingrid Stelzmüller, Volker Strenger, Helmut Täubl, Matthias Urban, Marlies Wagner, Franz Wimberger, Angela Zacharasiewicz, Ralf Harun Zwick, Professor of Paediatrics, MD, ATSF, FERS Ernst Eber
Wichtige Hinweise
Publisher's Note
Springer Nature remains neutral with regard to jurisdictional claims in published maps and institutional affiliations.
Summary
The coronavirus disease 2019 (COVID-19) pandemic is currently a challenge worldwide. In Austria, a crisis within the healthcare system has so far been prevented. The treatment of patients with community-acquired pneumonia (CAP), including SARS-CoV‑2 infections, should continue to be based on evidence-based CAP guidelines during the pandemic; however, COVID-19 specific adjustments are useful. The treatment of patients with chronic lung diseases has to be adapted during the pandemic but must still be guaranteed.