01.03.2017 | original article | Ausgabe 5-6/2017 Open Access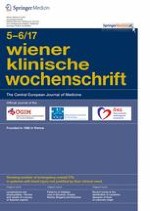 Lymphedema and employability – Review and results of a survey of Austrian experts
Zeitschrift:
Autoren:

Markus Neubauer, Dieter Schoberwalter, Fadime Cenik, Mohammad Keilani, MBA MSc Univ. Prof. Dr. Richard Crevenna
Wichtige Hinweise
M. Neubauer and D. Schoberwalter contributed equally to the manuscript.
Summary
Background
Literature about lymphedema and its influence on the ability to work and employability is limited. The aim of the present study was to investigate the opinion of Austrian experts on factors influencing the ability to work and employability in patients suffering from lymphedema.
Methods
A self-administered questionnaire consisting of 6 questions was sent to 12 Austrian lymphedema experts with 6 different specializations from May to August 2016. These experts were asked about suitable and unsuitable professions, the possible influence of lymphedema on the ability to work and employability as well as about existing and additional measures to improve the return to work.
Results
The reply rate was 100% (12 out of 12). All experts agreed that lymphedema can restrict the ability to work and employability. The leading reason for limited ability to work and employability was restricted mobility or function of the affected limb along with time-consuming therapeutic modalities, pain and psychological stress. The most suitable job named was teacher and the most unsuitable job named was cook. As easements for return to work, early rehabilitation, self-management, coping strategies, patient education, employer's goodwill and employer's cooperation were reported. Furthermore, experts stressed the need for an adjustment of the legal framework as well as low-barrier and more therapy offers.
Conclusions
Adjusted work demands seem to be of greater importance to support the ability to work and employability than recommendations for specific job profiles alone. Experts suggest an adjustment of the legal framework for affected patients, claiming a right for early rehabilitation as well as for life-long therapy. Even though some clinically useful conclusions may be drawn from this article, further research in the field is warranted.