31.07.2018 | original article | Ausgabe 19-20/2018 Open Access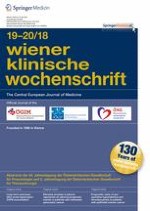 Long-term outcomes after acute hypercapnic COPD exacerbation
First-ever episode of non-invasive ventilation
Zeitschrift:
Autoren:

Andreas S. Fazekas, Mei Aboulghaith, Ruxandra C. Kriz, Matthias Urban, Marie-Kathrin Breyer, Robab Breyer-Kohansal, Otto-Chris Burghuber, Sylvia Hartl, Georg-Christian Funk
Wichtige Hinweise
Electronic supplementary material
All anonymized data sets of our study are available through direct request to the corresponding author.
Authors' contributions
GCF designed the study and conducted the data analysis. AF collected the data and drafted the manuscript. MA and RK collected the data. MU, RBK, MKB, SH and OCB critically revised the manuscript. All authors read and approved the final manuscript.
Summary
Background
Non-invasive ventilation (NIV) is used to treat acute hypercapnic respiratory failure (AHRF) in patients with chronic obstructive pulmonary disease (COPD); however, long-term outcomes following discharge are largely unknown. This study aimed to characterize long-term outcomes and identify associated markers in patients with COPD after surviving the first episode of HRF requiring NIV.
Methods
This study retrospectively analyzed 122 patients, mean age 62 ± 8 years, 52% female and forced expiratory volume in 1 s (FEV1) predicted 30 ± 13%, admitted with an acute hypercapnic exacerbation of COPD and receiving a first-ever NIV treatment between 2000 and 2012.
Results
A total of 40% of the patients required hospital readmission due to respiratory reasons within 1 year. Persistent hypercapnia leading to the prescription of domiciliary NIV, older age and lower body mass index (BMI) were risk factors for readmission due to respiratory reasons. Survival rates were 79% and 63% at 1 and 2 years after discharge, respectively. A shorter time to readmission and recurrent hypercapnic failure, lower BMI and acidemia on the first admission, as well as hypercapnia at hospital discharge were correlated with a decreased long-term survival.
Conclusion
Patients with COPD surviving their first episode of AHRF requiring NIV are at high risk for readmission and death. Severe respiratory acidosis, chronic respiratory failure and a lower BMI imply shorter long-term survival.