23.08.2019 | Gynäkologische Endokrinologie | Ausgabe 3/2019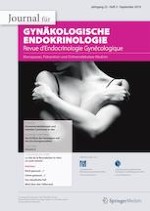 Le rôle de la fécondation in-vitro en cycle naturel
Zeitschrift:
Autoren:

Dr. Alexandra Kohl Schwartz, Michael von Wolff
Wichtige Hinweise
Publisher's Note
Springer Nature remains neutral with regard to jurisdictional claims in published maps and institutional affiliations.
Résumé
Le premier enfant né de Fécondation In-Vitro (FIV) est le résultat d'une fécondation en cycle mensuel naturel, après de longues recherches. C'est plus tard qu'on en est venu à la stimulation ovarienne supportée avec les gonadotrophines, pour augmenter le taux de grossesse. Après différentes améliorations dans les techniques de fécondation et de culture, la fécondation in-vitro en cycle mensuel naturel (FIV-CN) est devenue de plus en plus efficace. La FIV-CN et la FIV classique par stimulation sont fondamentalement des formes de traitement différentes avec des coûts, des charges et des risques différents. Les traitements ne doivent pas entrer en concurrence les uns avec les autres, mais doivent être compris comme des formes complémentaires de traitement. Ils peuvent être offerts en fonction des conditions médicales et des souhaits des couples et ainsi contribuer à un traitement FIV individualisé et orienté vers le patient. Pour les cas appropriés, par exemple une femme jeune, en bonne santé, dont la stérilité a été de courte durée, la FIV-CN représente un pas en avant. Cet article a pour but de donner un aperçu du processus technique, des chances et des limites de la FIV dans le cycle naturel.