01.12.2012 | case report | Ausgabe 4/2012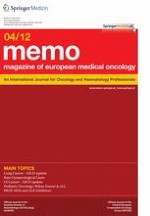 Late lung metastasis of primary endometrial cancer
Two rare cases of patients with late lung metastasis of primary endometrial cancer 14 and 17 years after initial treatment
Zeitschrift:
Autoren:

MD Roger Fei Falkenstern-Ge, MD Markus Wohlleber, MD Martin Kimmich, MD Sabine Bode-Erdmann, MD, PhD German Ott, MD, PhD Martin Kohlhäufl
Abstract
Purpose
Female genital tract tumors are an extremely infrequent cause of pulmonary metastasis. The longest interval of lung metastasis from endometrial cancer was initially reported 17 years after standard surgical treatment. Usually, nearly 80 % of all recurrences of endometrial cancer occur within 3 years after the initial treatment. We report two cases where pulmonary metastasis was observed 14 and 17 years after the initial surgical treatment, respectively.
Patients
A 71-year-old female was referred to our center for diagnosis of suspicious bilateral lung nodules. She had a history of a resected adenocarcinoma of the lung 5 years ago. Histological examination of the excised lung lesion represented lung metastasis of an endometrial adenocarcinoma which was diagnosed and treated 17 years ago. The second patient, a 77- year-old female was also referred to our center for histological diagnosis of multiple lung lesions and clavicle metastasis. Histological examination of the bone biopsy and lung biopsy both revealed metastasis of a primary endometrial adenocarcinoma diagnosed and treated 14 years ago.
Results
Our first patient was able to be treated with standard surgical therapy with organ-preserving metastatic surgery with atypical segmental resection and wedge resection. Our second patient with widespread pulmonary and osseous metastasis was treated with multimodal treatments (palliative radiotherapy and chemotherapy).
Conclusion
This case report points out the rare situation of lung metastasis from endometrial cancer with a latency period of 14 and 17 years, respectively. To our knowledge, in the literature there is only one case reported with a similar extreme latency.