Erschienen in: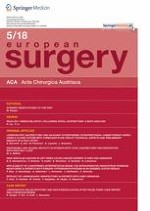 24.05.2018 | original article
Laparoscopic gastrectomy and adjuvant hyperthermic intraperitoneal chemotherapy (HIPEC) using a closed system with turbulent-flow circuit: technical aspects and preliminary results of a pilot study
Erschienen in: European Surgery | Ausgabe 5/2018
Einloggen, um Zugang zu erhalten
Summary
Background
Intraoperative hyperthermic chemotherapy (HIPEC) is increasingly used in combination with cytoreductive surgery for the treatment of peritoneal carcinomatosis. The potential survival benefit of adjuvant HIPEC after curative gastrectomy has not been conclusively demonstrated. We describe a newly developed closed system for HIPEC and report the preliminary results of a pilot study.
Methods
Patients with locally advanced gastric carcinoma at a high risk for peritoneal recurrence were identified from a prospectively collected database. Laparoscopic total or subtotal gastrectomy combined with standard D2 lymphadenectomy was performed. Immediately after resection and 15 min before HIPEC treatment, intravenous induction chemotherapy with folinic acid and 5‑fluorouracil was administered. A closed-system HIPEC with turbulent-flow circuit (Combat PRS™, Peritoneum Recirculation System, Galmaz Biotech, Madrid, Spain) was used to perfuse the peritoneal cavity with a solution of oxaliplatin and glucose during 60 min. After washout of the peritoneal cavity and re-establishment of pneumoperitoneum, a Roux-en-Y esophagojejunostomy or gastrojejunostomy was performed.
Results
Between June 2017 and February 2018, 6 patients were treated according to this protocol. No major postoperative complications occurred. There were no intra- or postoperative complications related to the HIPEC procedure. All patients are alive and disease-free at 3–11 months of follow-up.
Conclusions
The preliminary results of this pilot study indicate the safety and feasibility of the closed HIPEC system with CO2 recirculation in selected patients undergoing laparoscopic total or subtotal gastrectomy for locally advanced gastric carcinoma.