10.01.2020 | Originalien | Ausgabe 1/2020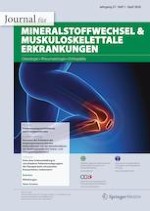 Korreliert die Prävalenz der bisphosphonatassoziierten Kiefernekrosen mit der Einnahmedauer der Bisphosphonate bei Tumor- und Osteoporosepatienten?
Gesamtauswertung des Deutschen Kieferosteonekroseregisters
Autoren:

BA Cand. med. Dent. Niels Karberg, Prof. Dr. med. Dieter Felsenberg
Wichtige Hinweise
Hinweis des Verlags
Der Verlag bleibt in Hinblick auf geografische Zuordnungen und Gebietsbezeichnungen in veröffentlichten Karten und Institutsadressen neutral.
Zusammenfassung
Die erste Veröffentlichung zum Thema der Osteonekrose des Kieferknochens (ONJ, "osteonecrosis of the jaw") erfolgte 2003. Bei Tumor- und Osteoporosepatienten werden im Zuge ihrer Grunderkrankung Bisphosphonate appliziert. Dies geschieht bei Tumorpatienten zur Risikoreduktion der Entwicklung einer Knochenmetastasierung, bei Osteoporosepatienten zur Verringerung des Frakturrisikos. Trotz der geringen Wahrscheinlichkeit werden Nebenwirkungen in Form von Nekrosen nach Interventionen am Kieferknochen häufig von den behandelnden Ärzten erwartet. Nach Auswertung der Registerdaten konnte nicht festgestellt werden, dass die Länge der Einnahme mit der Prävalenz von ONJ korreliert. Die Lokalisationen der ONJ decken sich weitestgehend mit den Ergebnissen bisheriger Studien.