25.03.2020 | original article | Ausgabe 17-18/2020 Open Access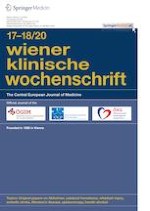 Knock-on effect of periodontitis to the pathogenesis of Alzheimer's disease?
Zeitschrift:
Autoren:

Friedrich Leblhuber, Julia Huemer, Kostja Steiner, Johanna M. Gostner, Dietmar Fuchs
Wichtige Hinweise
The results of this study have been presented earlier at the 38
th
International Winter-Workshop Clinical, Chemical and Biochemical Aspects of Pteridines and Related Topics in Innsbruck, February 26
th
–March 1st, 2019 and were published in abstract form (Pteridines [
35
]).
The original version of this article was revised: There was an error in figure 2 and an error in two of the values.
Publisher's Note
Springer Nature remains neutral with regard to jurisdictional claims in published maps and institutional affiliations.
Introduction
Patients, material and methods
After written informed consent, the diagnosis of primary degenerative dementia (F 00.1, in accordance with the International Classification of Diseases-ICD-10) was established in 20 patients by cerebral magnetic resonance imaging (MRI) and routine laboratory tests as described earlier [
19
,
24
]. Cognitive testing was performed by mini mental state examination (MMSE) and clock drawing test (CDT).
The following laboratory parameters were also analyzed: serum concentrations of neopterin and of tryptophan and kynurenine, calculating the kynurenine to tryptophan ratio (Kyn/Trp) as an index of tryptophan breakdown [
4
,
24
]. Additionally, alveolar fluid was tested by RNA-based analysis (PerioPOC®, Genspeed Biotech, Henry Schein Dental, Vienna, Austria) for the presence of the following periodontal pathogens:
Treponema denticola, Tannerella forsythia, Porphyromonas gingivalis, Prevotella intermedia
and
Aggregatibacter actinomycetemcomitans
[
25
].
Data were analyzed by the Statistical Package for Social Science (version 22, IBM Statistics SPSS, Chicago, IL, USA). To take into account that not all collected data followed a normal distribution, non-parametric Friedman and Wilcoxon signed-rank test were applied. To test for associations between variables, Spearman rank correlation analysis was performed, and
p
values below 0.05 were considered to indicate statistical significance.
Results
From 55 outpatients of the Department of Gerontology of the Neuromed Campus at the Kepler University Clinic Upper Austria with different neuropsychiatric symptomatology, 20 consecutive patients (aged 78.1 ± 2.2 years, 9 females) with symptoms of cognitive impairment were recruited. None of them were smokers.
The procedure was well-tolerated by all patients. In MRI scans all patients showed global cerebral atrophy without circumscribed vascular lesions. The mean ± SD MMSE in the patients was: 20.5 ± 7.0 and the CDT scores were 5.8 ± 3.1.
Discussion
This study is certainly limited by the relatively small number of patients. Thus, results can only be regarded as preliminary; however, they provide some new aspect that the salivary microbiome could play a relevant role in the pathophysiology of AD. It might also draw attention to a potential bottom-up contribution in AD which is usually regarded to be top-down only. With this respect it appears attractive that saliva can be easily assessed with no burden to the patients but enables monitoring of a potentially important aspect in the pathophysiology of AD.
Compliance with ethical guidelines
Conflict of interest
F. Leblhuber, J. Huemer, K. Steiner, J.M. Gostner, and D. Fuchs declare that they have no competing interests.
Ethical standards
The study was performed in accordance with the criteria of the Declaration of Helsinki and approved by the local ethics committee <dated 2017/05/11 by the Ethikkommittee des Landes Oberösterreich, Studie Nr. I‑24-16>. Human specimens were collected following an approved study protocol. The work does not report experiments involving animals.
Open Access
This article is licensed under a Creative Commons Attribution 4.0 International License, which permits use, sharing, adaptation, distribution and reproduction in any medium or format, as long as you give appropriate credit to the original author(s) and the source, provide a link to the Creative Commons licence, and indicate if changes were made. The images or other third party material in this article are included in the article's Creative Commons licence, unless indicated otherwise in a credit line to the material. If material is not included in the article's Creative Commons licence and your intended use is not permitted by statutory regulation or exceeds the permitted use, you will need to obtain permission directly from the copyright holder. To view a copy of this licence, visit
http://​creativecommons.​org/​licenses/​by/​4.​0/​
.
Publisher's Note
Springer Nature remains neutral with regard to jurisdictional claims in published maps and institutional affiliations.