01.06.2017 | short review | Ausgabe 2/2017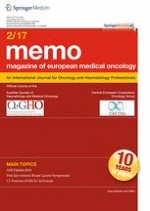 Is there progress in the treatment of high-risk myeloma?
Novel insights from ASH 2016
Zeitschrift:
Autoren:

DI (FH) Arnold Bolomsky, Univ.Prof.Dr. Heinz Ludwig
Summary
Treatment of high-risk patients is a major challenge in multiple myeloma (MM). Median survival rates of these patients remain poor at about 2 years and there were no major improvements with the introduction of immunomodulatory drugs (IMiDs) and proteasome inhibitors (PIs). This resulted in a remarkable discrepancy in the treatment results of MM, with a significant proportion of patients achieving long-term progression-free survival of >10 years (or even cure) while in patients with aggressive disease no or only minor improvements have been achieved. Current consensus statements define high-risk based on International Staging System (ISS) stage III plus the presence of cytogenetic aberrations (t(4;14) and/or del17p) and/or high lactate dehydrogenase (LDH). Regarding the treatment of high-risk patients, autologous stem cell transplantation remains the standard of care in transplant-eligible candidates. However, there is an unmet need for novel therapeutic strategies to overcome the limitations of current treatment modalities. Hence, efforts to study high-risk disease in MM were recently intensified. The ongoing search for new treatment strategies and drug targets is also reflected by the growing number of studies investigating high-risk disease. This short review aims to provide an overview about the current research landscape and recent progress in high-risk MM based on selected abstracts of the ASH 2016 meeting.