01.06.2012 | case report | Ausgabe 2/2012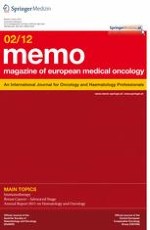 Is distinct EGFR mutation status proof of second simultaneous primary non-small cell lung cancer?
Zeitschrift:
Autoren:

Ulf Petrausch, Verena Tischler, Walter Weder, Rolf Stahel, Alex Soltermann
Abstract
We present the case of a 54-year-old woman diagnosed with two simultaneous adenocarcinomas in the right and left upper lobe of the lungs. The patient was treated with two curative intended resections and chemotherapy. The molecular analysis showed distinct EGFR mutation pattern in both adenocarcinomas of the lung. During the clinical course, the adenocarcinoma without EGFR mutation relapsed multiple times in the right lung resulting finally in pneumonectomy in 2009. Since then, the patient had no indication of relapse. The case demonstrates the difficulty to clinically discriminate a palliative metastatic situation from a potential curable situation with two simultaneous primary adenocarcinomas of the lung. We propose that a different molecular pattern between lesions could be used as an argument for the presence of two simultaneous primary tumors. In the case of distinct EGFR mutation pattern, therapy could be performed with curative intent.