Erschienen in: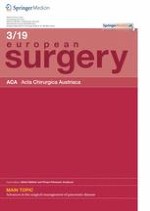 Open Access 16.04.2019 | main topic
Interventional management after complicated pancreatic surgery
Erschienen in: European Surgery | Ausgabe 3/2019
Summary
Background
Despite technical advances in surgical resection and postoperative management of the pancreas, surgical procedures of the pancreas are associated with a high rate of complications, resulting in a relevant morbidity and mortality. Early diagnosis and management of complications associated with pancreas surgery is mandatory, favoring a multidisciplinary approach.
Methods
Interventional radiology offers minimal invasive techniques to manage post-surgical complications. These procedures are highlighted in this review, including percutaneous drainage of fluid collections, percutaneous transhepatic biliary interventions, arterial embolisation and fistula embolisation.
Results
Post-surgical complications of pancreatic surgery are effectively managed by radiological procedures, offering a feasible and safe treatment with low morbidity rates. Accurate patient selection is key to an effective management of clinical situations where these interventions represent the first line approach.
Conclusions
Radiologic procedures allow for minimal invasive treatment of postoperative complications after pancreatic surgery, reducing the time of hospitalization and the time of recovery.
Publisher's Note
Springer Nature remains neutral with regard to jurisdictional claims in published maps and institutional affiliations.
Introduction
Percutaneous drainage
Early diagnosis and accurate management can be provided by minimally invasive interventional procedures, including image-guided percutaneous drainage. When performing percutaneous drainage, a standard evaluation of the patient is required before intervention. Patient history should be queried for allergic reactions and changes in kidney and thyroid function. Laboratory parameters to be determined before intervention are the international normalized ratio (INR), the prothrombin time, the thrombocyte count, and creatinine levels. In case of pathologic findings, appropriate countermeasures should be undertaken. Despite the fact that an absolute contraindication for percutaneous drainage of fluid collections and percutaneous transhepatic biliary drainage does not exist, a relative contraindication to be considered is inhibition of blood coagulation. If an intraabdominal abscess or fluid retention after pancreatectomy presents with a difficult-to-reach location, considerations on the treatment approach should include the feasibility of the treatment and possible complications.
Percutaneous transhepatic biliary procedures
Venous interventions
Involvement of the portal and mesenteric veins in malignant disease may lead to complications after pancreas surgery, especially if vascular reconstruction has been performed [
60
]. However venous complications after pancreatic surgery are extremely rare, and no large-scale studies are available in the literature to verify a standard treatment approach. Up to now, only case reports on postoperative venous complications after pancreatic surgery have been published [
61
‐
63
]. Possible treatment approaches include direct and indirect thrombolysis, venous stenting, and mechanical thrombectomy [
64
]. Anastomotic stenosis after reconstruction of the portal vein is generally not feasible for endovascular treatment because of the increased risk of rupture [
65
].
Fistula embolization
Hemorrhage
Factors impacting on outcome
No data are available on the comparison of rescue rates from different treatment approaches after complicated pancreatectomy. The studies reporting larger patient cohorts and results from longer observational periods clearly state the importance of accurate timing and fast work-up of complications after pancreatic surgery. When angiographic interventions are performed, centers with large hospital volume report better outcomes and more effective treatment, especially if interventional radiologists are available 24/7. Amrani et al. have reported that the failure-to-rescue rate depends mainly on the hospital volume and is mainly associated with renal complications (40.2%), shock (36.4%), cardiac complications (35.1%), and digestive complications (33.9%) [
90
]. A recent report has shown an influence of various factors on the failure-to-rescue rate after complicated pancreatectomy, including patient factors such as age, presence of ascites, and presence of malignant disease [
91
].
Conclusion
The multidisciplinary approach to treat post-surgical complications of the pancreas is facilitated by minimally invasive radiological procedures, shortening recovery times and reducing morbidity. Interventional radiological procedures represent the first-line treatment of post-surgical complications. The techniques have been described as feasible and safe. Radiologic procedures are equally effective yet less invasive in comparison to surgery. Patient selection and an interdisciplinary approach are the keys to successful intervention.
Conflict of interest
D. Putzer, P. Schullian, S. Stättner, F. Primavesi, E. Braunwarth, M. Fodor, B. Cardini, T. Resch, R. Oberhuber, M. Maglione, C. Margreiter, S. Schneeberger, D. Öfner, R. Bale, and W. Jaschke declare that they have no competing interests.
Open Access
This article is distributed under the terms of the Creative Commons Attribution 4.0 International License (
http://​creativecommons.​org/​licenses/​by/​4.​0/​
), which permits unrestricted use, distribution, and reproduction in any medium, provided you give appropriate credit to the original author(s) and the source, provide a link to the Creative Commons license, and indicate if changes were made.
Publisher's Note
Springer Nature remains neutral with regard to jurisdictional claims in published maps and institutional affiliations.