01.04.2017 | original article | Ausgabe 7-8/2017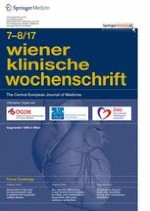 Indoor environmental factors associated with pulmonary function among adults in an acid rain-plagued city in Southwest China
Zeitschrift:
Autoren:

Jie Yu, Longju Zhang, Ya Luo, Yin Tang, Fangxu Tuo, Jiaqi Yang, PhD Jie Xu
Wichtige Hinweise
Concern over the part of indoor air pollution in the damaging of human health has recently increased. Indoor environmental factors associated with pulmonary function is correlated with public health, hence we chose the "Wiener klinische Wochenschrift" for publication of the manuscript.
This study eventually concludes showing the impaired pulmonary function both in adult males and females who exposed to indoor risk factors such as coal and ETS use compared to non-users. Our study suggests that the deterioration of pulmonary function may be an important component of the public health burden of indoor air pollution. Issues of energy and IAP should therefore be considered in the formulation of policies and interventions aimed at reducing the respiratory disease burden in Zinyi City of China where domestic environmental risk exposure is common.
In the present study we performed for the first time a simultaneous evaluation of pulmonary function changes and magnitude of exposure in an adult population exposed to indoor environmental risk factors an acid rain-plagued city in China. There is few recent research published or presented at events on the same theme of the manuscript.
Yu Jie contributed to manuscript writing and investigation, Yang jiaqi, Luo Ya and Tang Yin contributed to epidemiological investigations, Zhang Longju, Tuo Fangxu contributed to language revision, Xu Jie contributed to study design.
Summary
Objective
To assess the association of indoor environmental risk factors with respiratory function among adults in an acid rain-plagued city in China where coal use is frequent.
Methods
The subjects were randomly selected in the winter season. Information on selected home environmental factors was collected through administered questionnaires. Additionally, pulmonary function tests, including Forced Vital Capacity (FVC), Forced Expiratory Volume in 1 s (FEV1), FEV1/FVC and Peak Expiratory Flow Rate (PEFR) were also performed in participants.
Results
This study showed that, among a variety of risk factors, coal fuel use, cooking oil fumes and active and passive smoking exposure together with asthma in childhood were important factors for deterioration of pulmonary function among adults in the winter season (
p
< 0.05). Additionally, subjects whose kitchen was located in the living room or bedroom, who opened their windows only occasionally or never, who noted the presence of cooking oil fumes and pests, whose bedroom was shared by 3 or more residents and who kept pets tended to exhibit lower values of FVC, FEV
1
and PEFR values compared with non-exposed counterparts (
p
< 0.05).
Conclusions
This study demonstrated impaired pulmonary function among adults who were exposed to indoor risk factors, such as coal fires and cigarette smoking compared to non-users in the winter season and emphasizes the need for public health efforts to decrease exposure to indoor air pollution.