01.09.2016 | short review | Ausgabe 3/2016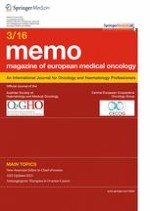 Indolent lymphoma at ASH 2015: new treatment approaches
Zeitschrift:
Autor:

MD Thomas Nösslinger
Summary
At the last American society of hematology (ASH) meeting new genetic prognostic tools for follicular lymphoma (FL) were presented. Recent clinical data support the potential use of chemotherapy-free combinations in treatment-naïve FL, but potential additive toxicities have to be considered. In relapsed disease the bcl2 inhibitor venetoclax (ABT-199) is very promising in combination with chemo-immunotherapy. Furthermore the concept of CAR-T cell therapy seems to be appropriate in highly refractory disease.
In younger patients with mantle cell lymphoma (MCL) minimal residual disease (MRD) and positrone emission tomography (PET) negativity after induction therapy are highly predicitive for the outcome after autologous transplantation. Bortezomib consolidation/maintenance trials after autologous transplantation yield conflicting results. In relapsed MCL ibrutinib is significantly more effective and also less toxic than temsirolimus.