Erschienen in: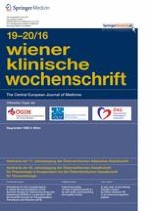 Open Access 01.10.2016 | consensus report
Indications for liver transplantation in adults
Recommendations of the Austrian Society for Gastroenterology and Hepatology (ÖGGH) in cooperation with the Austrian Society for Transplantation, Transfusion and Genetics (ATX)
Erschienen in: Wiener klinische Wochenschrift | Ausgabe 19-20/2016
Summary
Liver transplantation has emerged as an established and well-accepted therapeutic option for patients with acute and chronic liver failure and hepatocellular carcinoma. The disproportion between recipients and donors is still an ongoing problem that has only been solved partially over the last centuries. For several patients no life-saving organs can be distributed. Therefore, objective and internationally established recommendations regarding indication and organ allocation are imperative. The aim of this article is to establish evidence-based recommendations regarding the evaluation and assessment of adult candidates for liver transplantation. This publication is the first Austrian consensus paper issued and approved by the Austrian Society of Gastroenterology and Hepatology in cooperation with the Austrian Society of Transplantation, Infusion and Genetics.
Introduction
Today, organ transplantation is an internationally established therapy that is indispensable in modern medicine. No other medical procedure provides a comparable improvement in quality of life. The success of organ transplantation depends to a large degree on the availability of organs. Independent of specific problems involved in the organs to be transplanted, the gap between organs needed and organs available poses a major challenge that has been only partially met over the decades. For many patients life-saving organs cannot be procured in time. For this reason, objective, internationally established and evaluated recommendations for the indication for transplantation and for organ allocation are imperative.
The goal of this work is to draw up evidence-based recommendations for establishing the indication for liver transplantation in order to help physicians manage patients who are potential candidates for a liver transplant. For the evaluation of evidence and the strength of the recommendations, the GRADE system was used (see Table
1
; [
1
]).
Table 1
Grading of evidence and recommendation according to the GRADE system [
1
]
| Evidence quality | Notes | Grading |
| --- | --- | --- |
| High | Further research is very unlikely to change our confidence in the estimation of effect | A |
| Moderate | Further research is likely to have an important impact on our confidence in the estimate of effect and may change the estimate | B |
| Low | Further research is very unlikely to have an important impact on our confidence in the estimate of effect and is likely to change the estimate. Any change of estimate is uncertain | C |
| Recommendation | Notes | Grading |
| Strong | Factors influencing the strength of the recommendation included the quality of the evidence, presumed patient-important outcomes, and cost | 1 |
| Weak | Variability in the preferences and values, or more uncertainty. Recommendation is made with less certainty, higher cost or resource consumption | 2 |
The orthotopic liver transplant (OLT) performed in almost all cases is usually the only curative therapeutic option for patients with acute and chronic liver failure and a hepatocellular carcinoma (HCC). Also, primarily genetic metabolic defects of the liver and the resulting complications can be cured with a liver transplantation (LT). In Austria, organs for transplantation are largely procured from brain-dead patients. Brain death is determined according to a standardized protocol issued by the Austrian Public Health Council (Oberster Sanitätsrat). Living liver donations are an alternative and in Austria are performed above all in pediatric patients.
Before the introduction of LT, patients with acute liver failure or decompensated liver cirrhosis had a poor prognosis. The last 25 years have brought decisive improvements in surgical techniques, postoperative care, immunosuppression, and management of LT patients, so that long-term survivors and the quality of life of transplanted persons have clearly increased. The recent assessment of (inter)national LT registers has shown 5‑, 10-, and 15-year survival rates of 75, 65, and 50 %, respectively, with the survival curves and the number of long-term survivors still increasing (
www.​eltr.​org
). For this reason, LT has for years been deemed an established therapy option with already more than 200,000 transplants performed worldwide. In Austria between 115 and 150 LT are performed each year (Austrian Federal Institute for Health, Annual Transplant Report;
www.​goeg.​at
).
Indication
In patients with acute and chronic liver failure, the indication for LT should be assessed independently of etiology. The goal of LT is to prolong the patients' lives and improve their quality of life. To do this, suitable patients must be chosen and the timing for the LT indication in the course of the patient's liver disease must be determined. From the natural course of the liver disease, particularly liver cirrhosis, generally valid prognosis factors can be derived that are decisive for establishing the indication for LT. The prognosis for acute and chronic liver failure must be juxtaposed with the possible complications and the resulting morbidity and mortality, both in the immediate postoperative and the longer-term course following LT.
It is internationally agreed that a 1-year survival prognosis of less than 90 % is the minimum criterion for listing for LT [
2
,
3
]. At a 1 -year survival rate of >90 % the prognosis for compensated cirrhosis is good in principle. Thus, the diagnosis of liver cirrhosis per se does not automatically mean that LT is a necessity. Numerous analyses have, however, shown that the occurrence of complications, in particular varices, variceal bleeding, ascites, spontaneous bacterial peritonitis, hepatorenal syndrome, and the usually accompanying decompensation of liver cirrhosis, is accompanied by a dramatic deterioration in the patient's prognosis, with 1‑year survival rates dropping below 50 % [
4
]. This is usually associated with a worsening of the Child–Pugh Score from A to B or C. Because of subjective parameters (ascites, encephalopathy) and the so-called plateau effect, above all for bilirubin and prothrombin time (Quick test), this score has been replaced with the MELD (Model for End-stage Liver Disease) score that determines the prognosis for liver cirrhosis using bilirubin, INR, and creatinine values [
5
]. The MELD score originally served to assess the prognosis of patients before implantation of a transjugular intrahepatic portosystemic shunt (TIPS). After being modified, the score was assessed for determination of the prognosis of patients with liver cirrhosis [
6
] and since 2002 it has been used in the United States and since 2007 in most European centers not only for assessment of the indication for LT, but also for organ allocation [
7
,
8
]. One publication reported that from a MELD score of ≥15, the risk for dying from liver cirrhosis is greater than the postoperative mortality following LT. Consequently, a MELD score of 15 was set as the minimum criterion for LT listing [
3
,
9
].
The MELD score also has limitations and its application, whether for LT listing or organ allocation, is the subject of controversy [
10
,
11
]. Numerous modifications, such as inclusion of the serum sodium level (MELD-Na score), age (iMELD), difference in the weighting of laboratory parameters and determination of the dynamic MELD score (delta-MELD) have been published, but have not met with general acceptance. One of the greatest limitations of the MELD score is the fact that it does not account for the complications of portal hypertension, which exert a very important influence on the prognosis of liver cirrhosis [
10
,
11
]. The stages of liver cirrhosis proposed in 2006 ([
4
]; Table
2
), which depend on variceal bleeding and ascites, are significant predictors in liver cirrhotic patients, particularly patients with a MELD score of <15 [
12
]. Thus, regardless of MELD score, when complications of liver cirrhosis occur, the indication for LT should be made and the patient evaluated for LT.
Table 2
Stages of liver cirrhosis according to D'Amico et al. [
4
]
Stage

Varices

Bleeding

Ascites

1-year

Mortality (%)

1

−

−

−

1

2

+

−

−

3

3

+

+

−

15

4

±

−

+

26

5

+

+

+

57
Patients on the waiting list must be constantly monitored for LT necessity, because when therapy for complications (variceal bleeding, ascites) and/or the underlying disorder (antiviral therapy for hepatitis B and C, alcohol abstinence, steroid therapy for autoimmune hepatitis [AIH]) is successful, the patient's health can clearly improve or recompensation be achieved.
Recommendations:
Liver transplantation is indicated for patients with liver cirrhosis and a Child–Pugh score B/C or a MELD score of ≥15.

(A 1)

.

In patients with a MELD score of ≤14, the indication for LT can be decided on a patient-specific basis and from factors caused by the liver disease.

(A 1)

.

The underlying disorder and complications of liver cirrhosis require immediate therapy. If liver function improves, the LT indication will have to be re-evaluated.

(A 1)

.
Contraindications
Assessment for LT includes a series of examinations (see Table
3
). The list of absolute medical and surgical contraindications is short and in some cases varies from center to center. There is no strict age limit for LT. An age of 70 years is discussed as the upper limit, but is not generally accepted internationally or in Austria. In exceptional cases and depending on the patient's biological age, the age limit can be raised or lowered. Clear-cut contraindications (see Table
4
) are a metastatic hepatocellular carcinoma or an untreated or noncontrollable systemic infection (sepsis). Patients with extrahepatic carcinomas should be relapse-free for several years following curative therapy before LT is given consideration. Hepatic metastatic neuroendocrine tumors and metastatic hemangioendotheliomas can be an exception. Complicating diseases such as COPD, pulmonary hypertension, and coronary heart disease are sometimes deemed a contraindication because they are relevant factors for surgical risk.
Table 3
Transplantation evaluation process
| | |
| --- | --- |
| Hepatology evaluation | Definition of the severity and etiology of the liver disease and its prognosis (MELD, Child–Pugh score, portal hypertension and its complication) |
| Laboratory testing | Bilirubin (total and indirect), GOT (AST), GPT (AST), γGT, alkaline phosphatase, synthetic function (prothrombin time, INR, albumin), glucose, lipid and iron metabolism, renal function, thyroid parameters, viral hepatitis A–E, ceruloplasmin, alpha 1‑antitrypsin (genotyping), tumor markers, autoimmune parameters (ANA, AMA, SMA, LKM) |
| Hepatic imaging | Sonography with Doppler, MS-CT/dynamic MRT (exclusion or staging of HCC, splanchnic vessel evaluation) |
| Cardiopulmonary evaluation | Spirometry, arterial blood gases, (contrast)echocardiography, individual: stress-echocardiography, coronary CT, coronary angiography (CAG) |
| Psychosocial evaluation | Including assessment of alcohol and other addictions |
| Extrahepatic malignancies | Gastro- and colonoscopy, chest X‑ray (chest CT in case of special risk factors [e. g. nicotine]), ENT, gynecology/urology, dermatology |
| Infectiologic evaluation | CMV, EBV, tuberculosis screening (Interferon Gamma Release Assay, IGRA) |
| Anesthesiologic risk assessment | |
| Surgical risk assessment | |
Table 4
Contraindications to liver transplantation
Severe cardiac and/or pulmonary diseases and severe pulmonary hypertension (mPAP >45 mm Hg)

Alcohol addiction without motivation for alcohol abstinence and untreated/ongoing substance abuse

Hepatocellular carcinoma with extrahepatic metastases

Current extrahepatic malignancies (eventually reevaluation after successful therapy)

Sepsis

Untreated alcohol abuse and other drug-related addiction

Cholangiocellular carcinoma

Hepatic metastatic neuroendocrine tumors (NET), metastatic hemangioendothelioma

Morbid obesity

Persistent non-adherence
Indications depending on the etiology of the liver disorder
Open access funding provided by University of Innsbruck and Medical University of Innsbruck.
Conflict of interest
I. Graziadei, H. Zoller, P. Fickert, S. Schneeberger, A. Finkenstedt, M.P. Radosavljevic, H. Müller, C. Kohl, B. Sperner-Unterweger, S. Eschertzhuber, H. Hofer, D. Öfner, H. Tilg, W. Vogel, M. Trauner and G. Berlakovich declare that they have no competing interests.
Open Access
This article is distributed under the terms of the Creative Commons Attribution 4.0 International License (http://creativecommons.org/licenses/by/4.0/), which permits unrestricted use, distribution, and reproduction in any medium, provided you give appropriate credit to the original author(s) and the source, provide a link to the Creative Commons license, and indicate if changes were made.