Erschienen in: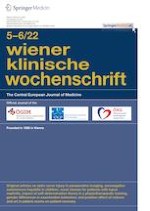 Open Access 09.04.2021 | original article
Impact of self-determination theory in a physiotherapeutic training
A pilot-study on motivation for movement of obese adolescents
Erschienen in: Wiener klinische Wochenschrift | Ausgabe 5-6/2022
Summary
Background
This study determined to what extent the underpinning of physiotherapeutic interventions with the evidence-based motivational psychological concept of the self-determination theory (SDT) by Ryan and Deci can increase motivation and enjoyment of movement in obese adolescents.
Methods
In this study 12 obese adolescents aged 14–18 years were offered a targeted group-specific sports program including a home exercise program of 8 weeks. The group leaders were trained in the SDT and supported to integrate motivational aspects. A SDT-based questionnaire by Kohake and Lehnert was used to evaluate motivational interventions.
Results
In total, seven (58%) patients finished the study. In the before-after comparison there were little changes in motivation. Results showed that contrary to expectations the motivation of the obese adolescents to move and to participate in the study was generally high. In the study, more internalized forms of motivation dominated, the highest quality form of motivation.
Conclusion
Digital technologies could be a successful way to further increase motivation and compliance of our target group. This MotiMove study is a basis for future research programs and empower physiotherapists and movement experts to develop and implement training programs for obese adolescents and children.
Supplementary Information
Publisher's Note
Springer Nature remains neutral with regard to jurisdictional claims in published maps and institutional affiliations.
Introduction
The global prevalence of overweight and obesity has doubled over the past 40 years and is increasing worldwide among children and adolescents [
1
,
2
]. Obesity leads to an increased risk of noncommunicable diseases, such as cardiovascular diseases, diabetes and cancer, and is associated with degenerative muscle and joint diseases as well as psychosocial, psychological and psychiatric consequences [
2
‐
5
].
In addition to the genetic predisposition, environmental factors, such as eating habits, physical activity, socioeconomic factors, environmental and cultural aspects play a central role in the multifactorial genesis [
6
,
7
]. This results in the relevance of multimodal therapy with the three basic components of nutrition, exercise and behavioral therapy [
6
]. Social physical fear, body shame, stigmatization and harassment of adolescents with an increased body mass index (BMI) have a negative impact on sport commitment [
8
‐
10
]. The poor athletic performance leads to frustration, demotivation and further withdrawal from the athletic activity, and the joy of movement is lost [
11
].
The positive effects of exercise programs for obese adolescents on a physical and psychological level have been confirmed by numerous studies [
12
‐
14
]. Therefore, under the guidance of physiotherapists they represent a suitable therapeutic measure for this target group. In addition to specialist knowledge of the musculoskeletal system, psychosocial strategies for behavior change must be considered as clinical competencies in physiotherapy. For this purpose, Deci and Ryan's psychological concept of the self-determination theory (SDT) was scientifically examined [
15
]. According to the SDT, experiencing autonomy, competence and social integration is an essential prerequisite for the development of intrinsic motivation. Intrinsic motivation is the most valuable form of motivation, which is expressed in completely internalized and self-determined actions. In contrast, the extrinsic motivation is an externally determined motivation. In between are further gradations on a continuum, such as the introjected motivation, which is characterized by self-control and the identified motivation, in which the importance of behavior for oneself is already conscious [
16
]. Autonomy means the possibility to self-regulate one's own actions, competence describes the ability to manage challenges, and social integration means having a close connection to other individuals and being a recognized member of a social group [
16
,
17
]. Promotion of motivation represents the advancement of these three basic psychological needs. A motivational process to increase physical activity with the support of coaches is associated with the prevention of obesity in adolescents [
18
]. Positive and clear communication with adolescents and the well-being in a group make a decisive difference with respect to the development of intrinsic motivation for movement [
19
]. Constructive feedback, active listening, humor and clarifying the relevance of the learning content play an essential role [
8
]. The evidence of the practical implementation of the SDT was examined in different fields [
16
,
20
,
21
]. So far, only a few study results have been available for physiotherapy regarding the practical implementation of the SDT and data for adolescents with obesity are missing [
15
,
22
].
The aim of this pilot study was to examine the effect of the implementation of motivational aspects based on the SDT in an 8‑week physiotherapeutic group training combined with a home exercise program that aimed to motivate obese adolescents to engage in physical activity. The hypothesis was that the motivation of the obese adolescents to move is generally low and that motivation to participate in exercise programs can be improved by the implementation of the SDT in physiotherapeutic group training.
Material and methods
Results
Discussion
In the before-after comparison little changes in motivation were observed. The results show that contrary to expectations the motivation of the obese adolescents to move and to participate in the study was generally high. It was mainly influenced by the forms of identified and intrinsic motivation according to Ryan and Deci [
16
] that are of particularly high quality. The adolescents indicated to be active in sports and showed an interest in physical activity.
The motivation to participate in the sports program was strongly identified. This means that our adolescents with obesity were aware of the importance of exercise for their own health. This could also be an explanation for the high intrinsic motivation. The largely balanced gender ratio among the group leaders (three women, two men) could also have contributed to less body shaming and more physical well-being of our study group. The motivation to move was moderately influenced by external factors, and both the introjected and the extrinsic motivation could be reduced in the before-after comparison. Contrary to expectations, the results were generally positive when it came to the quality of the motivation to move. Other studies emphasized the increased intrinsic motivation of normal weight adolescents compared to obese ones [
25
]. Since the comparison group is missing in this study, no further statements can be made here.
Our participants hardly carried out the home exercise program. Although the group leaders motivated the adolescents and they were well aware of how important exercises are for their own health, lack of time was the main answer. This implies the assumption of a stressful everyday life already in adolescence or another prioritization in the organization of leisure time;however, digital technologies could be a successful way to improve acceptance compared to providing the program as a paper copy. The home exercise program should be available on the mobile phone at any time, exercise videos with the group leaders applicable for mobile phones, tablets or laptops could be another possibility. The online training sessions should be available at a fixed time schedule. In addition, each participant can decide whether to activate his or her own camera. Then siblings and parents could also participate in the training sessions to achieve a holistic family approach and to increase motivation and compliance of obese adolescents. A current randomized controlled pilot study for app-based exercise support in orthopedic rehabilitation showed that an exercise program significantly increased activity level and compliance compared to exercise documents on paper [
26
]. Online training is also a very good option with respect to coronavirus disease 2019 (COVID-19). School and associated obligations such as homework and studying for school examinations were an enormous stress factor for the teenagers. Hence, training offered during summer school holidays, might increase the training participation and is beneficial in terms of the corona pandemic when training sessions can be performed outside. Especially with this specific group of patients, rewards might help to motivate to move in trainings on site, at home or online. Therefore, rewards as motivational factor should be considered in the following study. It is interesting that almost one third of the patients had back pain. It is therefore important in the future to involve specific exercises to relieve and strengthen the back.
The importance and integration of behavioral therapy and psychotherapy, but also social work in relation to obesity therapy should be examined in more detail. Only a concept that contains different areas for behavior change makes sense for sustainable obesity treatment or prevention [
6
,
7
]. Future studies should integrate ecosocial and social areas, such as migrant background, educational and socioeconomic status, and work-life balance. The promotion of volition as an implementation competence of health goals is important. Therapy based on the biopsychosocial model is successful if diagnosis and treatment are carried out in parallel at all relevant levels. This requires interdisciplinary cooperation between the health professions. Politicians must contribute to create social and eco-social conditions for health promotion of obesity prevention and therapy to be feasible in a sustainable manner. The research and improvement of the multimodal, multidisciplinary and biopsychosocial treatment approach should remain the focus in obesity therapy. The promotion of motivation for movement is essential.
Strengths and limitations
A strength of the study is that an individualized training based on the SDT was investigated for the first time. Therefore, this pilot study might be the basis for future training sessions with this specific and vulnerable group. Training, tools and questionnaires were also examined. The results of MotiMove study will enable physiotherapists and movement experts to design and perform training for obese adolescents. Moreover, MotiMove forms the basis for the next study with a control group.
Another strength is that the local Viennese sports association came to the last training session and provided exercise programs related to the sports preferences of our study sample. These sports programs are available in most of the districts of Vienna and therefore promote an easy access for our target group.
Limitations of the MotiMove study are the small sample size, the lack of a control group and the relatively short intervention period. Nevertheless, the MotiMove study and the results respond to a very current topic as prevalence of obesity still increases. Due to the actual situation around COVID-19, obese children and adolescents are now more at risk of stigmatization than before as socially marginalized group with an increased hazard for metabolic and cardiovascular diseases, a low quality of life and low self-esteem. For example, physical education is currently limited in Austrian schools and government measures like home schooling have an especially negative effect on children of families with low socioeconomic status. Social inequality is exacerbating. Movement programs, additionally to physical education in schools focused on promotion of motivation and therefore self-efficacy, are highly relevant as an answer for serious sociopolitical matters.
It is questionable whether a longer study period is effective for these patients. This study was able to show that obese adolescents did not always show up for training due to stress at school, lack of time management and ongoing private activities. The adolescents have no additional effort to drive by public transport to the training. Therefore, a weekly additional online live training can be discussed.
The fact that all participants had a migrant background might be a selection bias. It must be mentioned that almost all patients in the outpatient clinic of obesity in Vienna have a migration background. The question arises how effective its implementation was, whereby a differentiation in the quality of the lessons is objectively difficult to measure. All group leaders were trained and followed the same procedure.
Conclusion
In this pilot study, there were little changes in the before-after comparison in motivation for movement of obese adolescents. Contrary to expectations, the motivation to move and to participate in the study was generally high. Digital technologies could be a successful way to further increase motivation and compliance for the home exercise program. This MotiMove study is a basis for future research programs and empower physiotherapists and movement experts to develop and implement training programs for obese adolescents and children.
Acknowledgements
We gratefully acknowledge Elisabeth Fleischmann, Tobias Fuernsinn, Philipp Fuxjaeger, Chiara Gratz and Marie-Christine Gschiel as group leaders. We would like to thank the adolescents and their families, who were involved in the program for their participation and their commitment to pursue a better health.
Funding
This research received no external funding.
Declarations
Conflict of interest
J. Strempfl, T. Wutzl, D. Ün, S. Greber-Platzer, M. Keilani, R. Crevenna and A. Thajer declare that they have no competing interests.
Ethical standards
All procedures performed in studies involving human participants were in accordance with the ethical standards of the institutional and/or national research committee and with the Helsinki Declaration of 1975 and its later amendments or comparable ethical standards. Informed consent was obtained from all individual participants and their legal representatives included in the study. The institutional review board (Medical University of Vienna, EK Nr: 1572/2019) approved this study.
Open Access
This article is licensed under a Creative Commons Attribution 4.0 International License, which permits use, sharing, adaptation, distribution and reproduction in any medium or format, as long as you give appropriate credit to the original author(s) and the source, provide a link to the Creative Commons licence, and indicate if changes were made. The images or other third party material in this article are included in the article's Creative Commons licence, unless indicated otherwise in a credit line to the material. If material is not included in the article's Creative Commons licence and your intended use is not permitted by statutory regulation or exceeds the permitted use, you will need to obtain permission directly from the copyright holder. To view a copy of this licence, visit
http://​creativecommons.​org/​licenses/​by/​4.​0/​
.
Publisher's Note
Springer Nature remains neutral with regard to jurisdictional claims in published maps and institutional affiliations.