01.08.2015 | original article | Ausgabe 15-16/2015 Open Access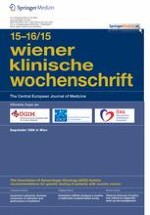 High-frequency oscillatory ventilation combined with partial liquid ventilation in experimental lung injury: effects on lung cell apoptosis
Zeitschrift:
Autoren:

Huimin Zuo, Dr. Linxiang Zeng, Guanghua Guo, Huihong Zeng
Summary
Objective
To investigate the effects of high-frequency oscillatory ventilation (HFOV) and partial liquid ventilation (PLV) on apoptosis of lung tissue induced by steam inhalation injury in rabbit.
Design
A prospective, randomized, controlled, multiple-group study.
Setting
An animal research laboratory centre in a university burns centre.
Subjects
New Zealand rabbits (
n
= 32; 2.25 ± 0.25 kg) of either sex.
Interventions
The animals were ventilated by HFOV with a mean airway pressure of 10 cm H2O, a frequency of 10 Hz, an amplitude of 20 cm H2O, an inspiratory:expiratory ratio of 1:1, and an FiO2 of 1.0. After the induction of acute lung injury (ALI) by steam inhalation, the animals were randomly divided into four groups: CMV, HFOV, CMV + PLV, HFOV + PLV group. Then they were ventilated for 4 h by CMV, HFOV, CMV + PLV and HFOV + PLV, respectively. After the experimental period, cell apoptosis and apoptosis indexes in the lung tissue were assessed with TUNEL FragELTM (Fragment End Labeling).
Results
Lung tissue apoptosis indexes in HFOV group and HFOV + PLV group were lower than that of in CMV group and CMV + PLV group; between-group comparison had significant difference (
P
< 0.01). HFOV + PLV group showed lowest apoptosis indexes.
Conclusion
HFOV combined with PLV can suppress lung tissue apoptosis induced by steam inhalation.