01.10.2014 | main topic | Ausgabe 19-20/2014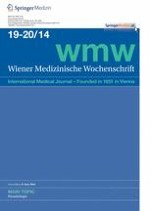 Helminths and helminthoses in Central Europe: diseases caused by nematodes (roundworms)
Zeitschrift:
Autoren:

Univ.-Prof. Dr. Herbert Auer, Univ.-Prof. Dr. Horst Aspöck
Wichtige Hinweise
Ethics
"An approval by an ethic committee was not applicable" (2x on the form)
Comments
The paper comprises the recent knowledge on the epidemiology of helminthic infestations/infections/diseases in Austria; never before such an overview has been published.
Summary
The third part of the overview "Helminths and helminthoses in Central Europe" deals with the medically relevant nematodes (roundworms) and nematode-caused diseases occurring in Central Europe. The paper comprises data on the biology of the parasites and their ways of transmission, describes the symptomatology of the diseases, summarizes the possibilities of diagnosis and refers to the prophylactic means.