01.11.2014 | case report | Ausgabe 5/2014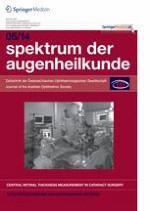 Giant retinal tear complicated with subretinal lens fragment following femtosecond laser cataract surgery
Zeitschrift:
Autoren:

MD, PhD Cosmin Rosca, MD, PhD Prof. Mihnea Munteanu, MD, PhD Prof. Franz Fankhauser, MD, PhD Horia Stanca, MD, PhD Florian Balta, MD, PhD Emil Ungureanu, MD, PhD Nicolae Balica, MD, PhD Assoc. Prof. Octavian Mazilu, MD, PhD Ovidiu Boruga
Wichtige Hinweise
Electronic supplementary material
>The online version of this article (doi:
10.​1007/​s00717-014-0230-9
) contains supplementary material, which is available to authorized users.
Summary
Background
Femtosecond laser-assisted cataract surgery is a new technique that offers the possibility to have some steps of the surgery done by an extremely precise machine with very high accuracy. Despite the high influence on the surgery steps of a nonsubjective machine, there are still some possible potential errors especially during the learning curve of the surgeon who is still crucial in both, the management and also the proceeding of the cataract surgery.
Material and methods
We are reporting the case of a 61-year-old man, which was referred to our retinal department because of luxation of multiple lens fragments following femtosecond laser cataract surgery in his right eye, performed 1 day before. The anterior segment examination revealed residual lens cortex in the anterior chamber, an eccentric and intact anterior capsulorhexis, and a large posterior capsule rupture. During removal of the lens fragments from the posterior segment, a giant retinal tear was discovered in the infero-temporal periphery of the right eye, approximately 130 ° in circumferential extension, associated with a large subretinal lens fragment. Removal of the dropped lens fragments from both the vitreous and the subretinal space, as well as the management of the giant retinal tear are described.
Results and conclusions
This case describes a rare intraoperative complication of a femtosecond laser-assisted cataract surgery, and we are trying to discuss different scenarios, which could have caused the capsular break and the retinal tear, thus offering possible pathways to prevent this kind of situations.