01.12.2013 | original article | Ausgabe 6/2013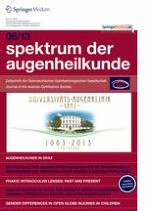 Genetic analysis of uveal melanoma by array comparative genomic hybridization before and after radiotherapy
Zeitschrift:
Autoren:

Dr. Werner Wackernagel, Dr.in. Lisa Tarmann, Dr. Christoph Mayer, a.o. Univ. Prof. Dr. Gerald Langmann, Univ. Prof. Dr. Andreas Wedrich
Wichtige Hinweise
Data were presented in part at the 51st meeting of the Austrian Ophthalmological Society, ARVO Science Day, May 14th, 2010, Zell am See, Austria.
Summary
Background
Genetic analysis of choroidal melanoma is frequently used to estimate the risk of metastatic spread of the tumor. Obtaining a biopsy for genetic analysis, however, can be difficult and sometimes unsuccessful. We evaluated the feasibility and accuracy of genetic testing using array comparative genomic hybridization (CGH) after radiotherapy, from tumor samples obtained by endoresection or after secondary enucleation.
Material and methods
Fifteen choroidal melanoma samples obtained after radiotherapy (Ruthenium-106 plaque brachytherapy or Gamma-Knife radiosurgery) were analyzed by array CGH to detect chromosomal aberrations (monosomy 3 and trisomy 8q), and the results were compared with pre-irradiation findings in five cases.
Results
Array CGH was successfully performed in all 15 cases. Time from radiotherapy to obtaining the sample for cytogenetic testing was between 14 and 879 days. Results of post-radiotherapy genetic analysis did not differ from pre-radiotherapy findings.
Conclusion
Post-radiation CGH appears to be a promising option for prognostic testing if a first biopsy before radiotherapy failed or was not performed. It could be useful to avoid an additional surgical procedure before radiotherapy if vitrectomy or endoresection is planned after radiotherapy.