16.07.2020 | original article | Ausgabe 1/2021 Open Access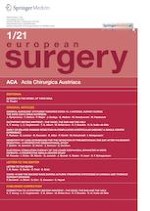 General surgeons' attitudes towards COVID-19
A national survey during the SARS-CoV-2 virus outbreak
Zeitschrift:
Autoren:

MD Justyna Rymarowicz, MD Tomasz Stefura, MD, PhD Prof. Piotr Major, MD, PhD Prof. Jacek Szeliga, MD, PhD Prof. Grzegorz Wallner, MD, PhD Prof. Michał Nowakowski, MD, PhD Prof. Michał Pędziwiatr
Wichtige Hinweise
This is the first study that aimed to assess surgeons' attitudes towards surgical practice in relation to the hospitals' preparations made during the early phase of the COVID-19 pandemic in the surgical wards of Polish hospitals.
Publisher's Note
Springer Nature remains neutral with regard to jurisdictional claims in published maps and institutional affiliations.
Summary
Background
The COVID-19 global pandemic left the unprepared health care systems struggling to mount a measured response. This gave rise to important questions about surgeons' attitude towards surgical practice and the level of preparation at work.
Methods
Cross-sectional web-based national survey distributed to general surgeons by e‑mail over a period of 7 days.
Results
Among 304 responders, 42.6% were working in the hospital with COVID-19 patients. Three quarters of all surgeons (74.5%) were afraid of contracting the disease. While 42% expressed a fear for their own life while caring for COVID-19 patients, 90.1% were afraid of transmitting the disease to family members. The average reported level of PPE provided at the workplace was significantly higher among the group which was not afraid of contracting COVID-19 than among the group afraid of contracting COVID-19 (4.0 vs. 3.12,
p
 = 0.02). Nearly all surgeons (93.8%) agreed that cancer surgeries should be continued during the pandemic and 49% perceived laparoscopy as a safe approach when operating on COVID-19 positive patients.
Conclusion
A high proportion of surgeons admitted being afraid of working during the COVID-19 pandemic, which had various implications for their attitude towards surgical practice. Protecting health care workers is an important component of public health measures for addressing the epidemic