01.12.2013 | original article | Ausgabe 6/2013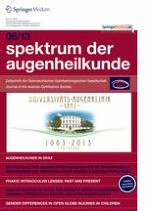 Gender differences in open globe injuries in children
Zeitschrift:
Autoren:

MD Marlene M. Schörkhuber, Dr. Mona R. Schneider, Dipl.-Ing. Regina Riedl, OA. Dr. Werner Wackernagel, OA. Dr. Martina Brandner, Univ. Prof. Dr. Andreas Wedrich
Summary
Background
Open globe injuries are characterized by at least one full-thickness wound of the eyewall (cornea and sclera). Their causes and prognosis vary strongly with the country in which they occur. This study gives an overview about the injury circumstances and visual outcome in children in the catchment area of the University Department of Ophthalmology of Graz (Styria, parts of Burgenland, and Carinthia).
Material and methods
The patient records of all children < 18 years of age who were operated on between 1992 and 2011 at the University Department of Ophthalmology of Graz because of open globe injuries were analyzed. Epidemiologic data as well as the functional and anatomical outcome were evaluated with a special focus on gender differences. Only children with a follow-up of at least 1 year were included in the analysis of the visual outcome.
Results
We observed a preponderance of males (
p
 < 0.001) in our collective of 104 children; 81 (77.9 %) patients were boys, and 23 (22.1 %) were girls. There was a gender-specific difference of the age at injury: the girls were injured at a significantly younger age than the boys (median: 6 versus 11 years,
p
 = 0.001). The patients sustained 76 (73.1 %) penetrating injuries, 19 (18.3 %) injuries with an intraocular foreign body, 6 (5.8 %) ruptures, and 3 (2.9 %) perforating injuries. The most frequent injury objects were tools (
n
 = 21, 20.2 %), sticks and arrows (
n
 = 18, 17.3 %), and glass fragments (
n
 = 12, 11.5 %). Of 88 patients with recorded final visual acuity (FVA), 52 (59.1 %) recovered a vision of at least 20/40; 14 (15.9 %) went unilaterally blind. The FVA significantly improved (
p
 < 0.001) compared with the initial visual acuity.
Conclusion
The majority of victims were teenage boys, and the most frequent injury objects were tools. Injuries in girls occurred at a younger age than those in boys.