01.02.2017 | review article | Ausgabe 3-4/2017 Open Access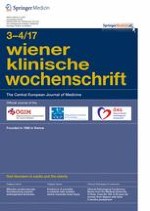 Gait disorders in adults and the elderly
A clinical guide
Zeitschrift:
Autoren:

MD Walter Pirker, MD Regina Katzenschlager
Wichtige Hinweise
Both authors agree with the revised version of the manuscript. F. Kralinger and D. Maestro consented to be mentioned in the acknowledgement section of the manuscript.
Summary
Human gait depends on a complex interplay of major parts of the nervous, musculoskeletal and cardiorespiratory systems. The individual gait pattern is influenced by age, personality, mood and sociocultural factors. The preferred walking speed in older adults is a sensitive marker of general health and survival. Safe walking requires intact cognition and executive control. Gait disorders lead to a loss of personal freedom, falls and injuries and result in a marked reduction in the quality of life. Acute onset of a gait disorder may indicate a cerebrovascular or other acute lesion in the nervous system but also systemic diseases or adverse effects of medication, in particular polypharmacy including sedatives. The prevalence of gait disorders increases from 10 % in people aged 60–69 years to more than 60 % in community dwelling subjects aged over 80 years. Sensory ataxia due to polyneuropathy, parkinsonism and frontal gait disorders due to subcortical vascular encephalopathy or disorders associated with dementia are among the most common neurological causes. Hip and knee osteoarthritis are common non-neurological causes of gait disorders. With advancing age the proportion of patients with multiple causes or combinations of neurological and non-neurological gait disorders increases. Thorough clinical observation of gait, taking a focused patient history and physical, neurological and orthopedic examinations are basic steps in the categorization of gait disorders and serve as a guide for ancillary investigations and therapeutic interventions. This clinically oriented review provides an overview on the phenotypic spectrum, work-up and treatment of gait disorders.