24.03.2020 | main topic | Ausgabe 9-10/2020 Open Access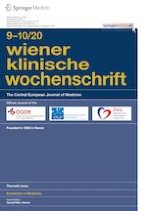 From St. John's wort to tomato and from Rhodiola to cranberry
A review of phytotherapy and some examples
Zeitschrift:
Autoren:

Verena Weixlbaumer, Lukas Draxler, MD Markus Zeitlinger, Benedikt Prantl
Wichtige Hinweise
Publisher's Note
Springer Nature remains neutral with regard to jurisdictional claims in published maps and institutional affiliations.
Introduction
As part of a university course, student groups were created to analyze different segments of complementary or alternative medicine in order to evaluate the evidence for efficacy and safety in the respective field. This short review presents the result of the group which focused on phytotherapy, an area where evidence-based and complementary medicine meet each other.
Definition and history
Phytotherapy or herbal medicine defines a broad spectrum of treatment combining modern and traditional knowledge of plant-based mixtures of several potentially active substances. Regulations by national (e.g. Austrian) and European authorities, such as the EMA split these substances into two classes: medicinal products and dietary supplements.
Monographs in the European Union (EU) made by the Herbal Medicinal Product Committee (HMPC) serve as orientation for pharmaceutical companies and national registration/admission authorities and correspond to the information presented in the summary of product characteristics (SmPC).
Natural herbs historically represented a more rational alternative to conventional medicine, which for centuries included methods, such as bloodletting, cupping and dirt-pharmacy with virtually no benefits and fatal side effects. In the nineteenth century, during the dawn of modern pharmacy, plants, such as the opium poppy, willow bark or coca leaf contributed essential basic material for important medicines (e.g. salicylate, morphia, cocaine).
In 1913, Henri Leclerc published "Précis de phytothérapie" in which he sought to differentiate between traditional herbal therapies and modern plant-based medicine for the first time by creating the term phytotherapy.
Herbal preparations
The administration of herbs consists of a variety of pharmaceutical preparations, the most common of which are liquids (e.g. infusions or herbal teas) and decoctions. Given that certain components dissolve at a particular time, the preparation is time-dependent, and some require the usage of cover plates due to the etheric oils which are highly volatile. The formulations follow the characteristics and galenic needs of the ingredients and active components which are to be extracted from the plant parts [
10
].
Liquid preparations can be further subclassified into fresh plant preparations, tea preparations and extracts. Each of these are further subdivided according to their method of production, as described below.
Fresh plant preparations can be freshly squeezed juices, distillates and oil-based extractions. Water-vapor volatile ingredients are gathered through steam distillation; however, for oil-based extractions, plant parts are inserted in oil at moderate temperature to extract the liposoluble components.
Next, tea preparations can be further subdivided into infusions, decoctions and macerations. For infusions, chopped plant parts are doused with hot water, steeped and strained after a specific brewing time. This is mostly used for volatile oils and thermolabile ingredients. More solid parts like bark or lumber are extracted through decoctions. These are made by boiling and simmering the plants in water. Maceration is mostly used with plants that would release unwanted ingredients or gelatinize when combined with hot water (e.g. marshmallow root). In such cases, chopped plant parts are steeped in water at room temperature for several hours.
Finally, extracts are further divided into alcoholic extracts, tonic preparations and alcoholic distillates. They usually exist in a liquid form, but it is also common to gradually evaporate the extraction medium. In doing so, a semifluid extract is produced. If the extraction medium is reduced to 4% residual moisture, a dry extract remains.
Semisolid preparations are further processed mostly into baths, jellies, pastilles, salves, syrups and suppositories [
10
]. Dry extracts, shredded and pulverized drugs can be further processed into dragées, granulates, gelatine capsules, pastilles and pellets. The quality of this dry preparation depends on the extraction medium, the extraction procedure and the drying technique [
10
]. The desired concentration can be gained by adding inert substances (e.g. lactose, dextrin) or mixing different extract charges [
14
,
15
].
Alcoholic extracts known by patients as "drops" are usually "tinctures" or "fluid extracts". Ethanol is used as an extraction medium with an alcoholic content of 20–60% by volume. Therefore, they are contraindicated in alcoholic patients and those with severe liver diseases. The ratio between drug and extraction medium in tinctures is typically between 1:5 and 1:10 and sometimes has to be diluted before use. Fluid extracts have a 1:1 ratio and hence are of higher concentration.
Ultimately, the last form of liquid preparations is in the form of alcoholic distillates. The alcoholic content has to be at least 40 vol.% to provide a clear dissolution of the extracted aetheric oils [
10
–
12
].
In relation to extracts the drug-extract ratio (DER) must be mentioned, a fundamental parameter for the comparability of extracts. It is a measurement for the extract yield in a standardized procedure depending on the used plant parts, the extraction medium and the extraction method [
13
,
14
].
Normally, only plant-based drug products with a relatively constant composition should be used in different preparations. Drugs made from self-collected or self-cultivated plants may or may not have the desired activity but carry additional risks of allergic reactions due to contamination or overdosing with associated side effects.
The most common forms of application are perioral intake or ointments because intravenous phytotherapies carry potential risks, such as clouding and sedimentation [
11
,
14
,
15
]. Moreover, severe infections have been described after application of parenteral phytotherapies.
Governmental regulations
Authorization of phytopharmaceuticals in the European Union
There are several procedures for authorizing drugs in the European Union [
16
].
1.
In a national approval, drugs are only authorized in one of the member states. In Austria, this is incumbent upon the Austrian Ministry for Safety and Healthcare System (
Bundesamt für Sicherheit und Gesundheitswesen
, BASG).
2.
If there is an authorization in one of the member states, the drug can be authorized through the procedure of mutual recognition, whereby other states can authorize the drug in a simplified procedure.
3.
If there is no authorization in any member state, usually a drug has to be authorized in all members states at the same time by a centralized approval via the EMA. For modern drugs this is by far the most important pathway and decentralized procedures are only possible under certain exemptions.
Licensing a phytopharmaceutical in the European Union
There are 3 ways of licensing a phytopharmaceutical: traditional use registration, well-established use marketing authorization and the stand-alone or mixed application [
17
].
1.
The traditional use registration applies for phytopharmaceuticals which have been used for at least 30 years, 15 of which in the European Union. Approval involves an assessment of mostly bibliographic safety and efficacy date. Clinical tests are not necessary as long as sufficient data concerning safety and plausible effect are available from the literature. Herbal medicine brought to the EU market via the traditional use registration are not intended to be used with the supervision of a medical professional and must not be administered by injection. In the Austrian Medicinal Products Act (
Arzneimittelgesetz
, AMG) the traditional use registration corresponds to § 12.
2.
The well-established use marketing authorization applies if literature indicates that the active substances has been in well-established use within the EU for at least 10 years, with recognized efficacy and an acceptable level of safety. This involves an assessment of mostly bibliographic safety and efficacy data. In the AMG the well-established use registration corresponds to §10a.
3.
The stand-alone or mixed application needs the same registration procedure as any other commercial drug. The manufacturer has to prove the efficacy and safety in preclinical and clinical studies.
A clear distinction has to be made between phytotherapies marketed as pharmaceuticals and those sold as dietary supplements with a botanical background. In Austria, phytopharmaceuticals are regulated within the AMG and are therefore drugs by definition. On the other hand, dietary supplements are regulated by the Food Safety and Consumer Protection Act (
Lebensmittelsicherheits- und Verbraucherschutzgesetz
, LMSVG); where they are controlled similarly to standard food products.
The requirements for dietary supplements are much lower, which seems to be one key factor for the difference in the quality of these products.
Licensing on the nation level in Austria: the Medicinal Products Act (
Arzneimittelgesetz

, AMG)

In the Austrian Medicinal Products Act § 1. (1) a drug is defined as "a substance, used in or on the human or animal body, with the purpose of healing, relieving or preventing suffering from human and animal disease or pathological discomfort or which is supposed to be used in or on the human or animal body or which is supposed to be administered to a human or an animal to either restore, correct or influence physiological functions through pharmacological, immunological or metabolic effect or to be used as the basis for a medical diagnosis."

In § 1 (3) the AMG defines what does not qualify as a drug. In § 1. (3) 2. dietary supplements are explicitly mentioned, as not being part of the definition of a drug. In § 1. (3) 9. all substances that are planned to be used exclusively as complementary medicine, if they are not fulfilling the definition in § 1 sect. 1, are excluded from the definition of a drug. Not included in this exclusion are all substances which are produced under homeopathic principles.
Examples of phytotherapy and the evidence
After a literature review the following examples were bibliographically investigated:
Conclusion
This review considered just four examples of herbal medicine with very different levels of dissemination but also different levels of evidence. We picked these diverse examples explicitly to show the wide range of efficacies and popularities of various herbal remedies and encourage both an open mind and critical eye when it comes to this field.
Herbal medicine sometimes might bring hope to patients, when there seems to be no treatment available within the evidence-based medicine. Human mind patterns often tend to deal in absolutes: with many either choosing to hastily embrace traditional herbal medicine ancient wisdom, or reject the entire field as pseudoscience. Realistically, much of modern medicine has been built from plant isolates, and many remedies likely still exist in nature; still, care must be taken to identify these treatments utilizing good scientific practices and ensuring the highest standards of patient health and safety.
Conflict of interest
V. Weixlbaumer, L. Draxler, M. Zeitlinger, and B. Prantl declare that they have no competing interests.
Open Access
This article is licensed under a Creative Commons Attribution 4.0 International License, which permits use, sharing, adaptation, distribution and reproduction in any medium or format, as long as you give appropriate credit to the original author(s) and the source, provide a link to the Creative Commons licence, and indicate if changes were made. The images or other third party material in this article are included in the article's Creative Commons licence, unless indicated otherwise in a credit line to the material. If material is not included in the article's Creative Commons licence and your intended use is not permitted by statutory regulation or exceeds the permitted use, you will need to obtain permission directly from the copyright holder. To view a copy of this licence, visit
http://​creativecommons.​org/​licenses/​by/​4.​0/​
.
Publisher's Note
Springer Nature remains neutral with regard to jurisdictional claims in published maps and institutional affiliations.