01.11.2016 | review article | Ausgabe 21-22/2016 Open Access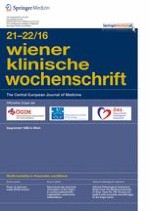 Fever of unknown origin (FUO) revised
Zeitschrift:
Autoren:

Dr. Manuel Unger, Ao.Univ.-Prof. Dr. Georgios Karanikas, Cand.med. Andreas Kerschbaumer, Ao.Univ.-Prof. Dr. Stefan Winkler, Priv.-Doz. Dr. Daniel Aletaha
Case report
We present a 46-year-old man with a classic case of fever of unknown origin (FUO), who visited the outpatient department of the division of Infectious Diseases and Tropical Medicine in December 2015. His main complaint was a sustaining fever up to 39.2 °C, which was not subsiding since three weeks despite two different antibiotics prescribed by the general practitioner. He reported distinctive b symptoms with night sweats and incipient weight loss, as well as emerging dyspnoea.
Routine blood tests showed no significant abnormalities, whereas a chest radiograph indicated bihiliary lymphadenopathy, leading to the differential diagnoses of tuberculosis, lymphoma, or possibly sarcoidosis. Therefore, a computed tomography was performed, which on the one hand confirmed the finding of the enlarged lymph nodes, and on the other hand showed no sign of tuberculous cavity. Interferon-gamma-release assay (IGRA) testing for tuberculosis was also negative. Furthermore, angiotensin-converting enzyme determined in the serum was highly elevated, making the diagnosis of sarcoidosis much more likely than lymphoma. In parallel, fever disappeared immediately under treatment with naproxen, which was another indication for a nonmalignant cause of fever.
Already on the third day after admission, mediastinoscopy and a consecutive lymph node biopsy were performed. Histologic examination confirmed the diagnosis of sarcoidosis.
Review
Design of a prospective study: FEBRIX
To prospectively address the open questions (as partly discussed above), we designed a specific study protocol. In this FEBRIX study, patients with prolonged fever (at least one week; orally measured temperature ≥37.8 °C) will be recruited over a 2-year period. These sensitive entry criteria will allow the evaluation of the utility of different diagnostic investigations, and to determine the types and prevalence of various underlying diseases. Consequently, the prevalence of fever with unresolved cause (FUO) will also be investigated. The evaluation process will be based on a diagnostic algorithm, which includes diagnostic therapies (naproxen test) and modern imaging techniques ( 18FDG-PET/CT). At the end of the study, a large battery of clinical, serological, and biomarker analyses from material obtained at baseline and during follow-up will be linked to the outcome of the prolonged fever (cause resolved or not resolved) with the purpose of predicting outcomes of future patients with prolonged fever at an early point of their disease.
The diagnostic algorithm (Fig.
1
) consists of two phases, lasting for a maximum of 2 weeks. The examinations that will be performed in Phase #1 of the study will—as in clinical routine—be guided by clinical suspicion and decisions of the treating specialists at the Division of Infectious Diseases and the Division of Rheumatology of the Medical University of Vienna, located at the Vienna General Hospital. A minimum basic diagnostic workup, however, will contain a detailed history, physical examination, routine peripheral blood evaluations, including aerobic and anaerobic blood cultures, urinalysis and a standard chest X‑ray. In case of referral of a patient from outside the Vienna General hospital—again aligned with routine clinical care—tests, for which there is no documentation, or which are older than 5 days, will be repeated as possible. Antipyretics will be discontinued at presentation to appropriately assess the extent, type and course of fever. Phase #1 will also include the evaluation of a diagnostic treatment intervention using naproxen (see above).
×
Two physicians will be required to document the implications of the initial test results: to establish a diagnosis (i. e. resolve the cause of prolonged fever) consensus is needed among these two; this diagnosis will be documented with the supporting evidence. If no diagnosis is evident at this point, the presence of a diagnostic clue will be evaluated: a diagnostic clue would be a clinical suspicion of underlying cause of prolonged fever, which in itself does not prove a diagnosis, but results in additional, more specific diagnostic examinations or procedures. Here, the two physicians are not required to achieve consensus, but rather by involving two physicians the sensitivity for a primary diagnostic clue will be increased. Documentation at this point will therefore include (1) the diagnostic suspicion or suspicions; and (2) the finding(s), which triggered this suspicion. Physicians will also be instructed to document if the naproxen test provided a diagnostic clue.
If no diagnostic clue is present or a physician requests an 18FDG-PET/CT, then patients directly enter Phase #2 of the study, in which they will receive an 18FDG-PET/CT evaluation. Based on the 18FDG-PET/CT, a diagnosis may be established, or new diagnostic clues may arise, leading to additional diagnostic procedures. If no diagnosis can be established, then FUO (prolonged fever with unresolved cause) is present.
After conclusion of the study, the prevalence of the different outcomes will be analysed: FUO vs. prolonged fever with specific underlying diagnosis (malignancy, infection, or noninfectious inflammatory disease). A post hoc analysis of clinical markers and biomarkers at baseline will then be performed to identify potential predictors of outcome at study entry, which may help modify/optimise clinical approach to patients with prolonged fever as well as FUO in the future.
Open access funding provided by Medical University of Vienna.
Compliance with ethical guidelines
Conflict of interest
M. Unger, G. Karanikas, A. Kerschbaumer, S. Winkler, and D. Aletaha declare that they have no competing interests.
Ethical standards
The FEBRIX study has been approved by the local ethics committee (EK No.: 1206/2015) and was registered in the German Clinical Trials Register (DRKS-ID: DRKS00009591). All patients participating in the FEBRIX study, e. g. the patient mentioned in the case report, gave informed consent.
Open Access
This article is distributed under the terms of the Creative Commons Attribution 4.0 International License (
http://​creativecommons.​org/​licenses/​by/​4.​0/​
), which permits unrestricted use, distribution, and reproduction in any medium, provided you give appropriate credit to the original author(s) and the source, provide a link to the Creative Commons license, and indicate if changes were made.