24.07.2018 | original article | Ausgabe 6/2018 Open Access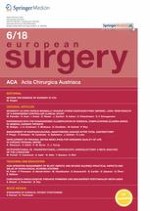 Experiences with the standardized classification of surgical complications (Clavien-Dindo) in general surgery patients
Zeitschrift:
Autoren:

M. Bolliger, J.-A. Kroehnert, F. Molineus, D. Kandioler, MD M. Schindl, P. Riss
Summary
Background
The standardized Clavien-Dindo classification of surgical complications is applied as a simple and widely used tool to assess and report postoperative complications in general surgery. However, most documentation uses this classification to report surgery-related morbidity and mortality in a single field of surgery or even particular intervention. The aim of the present study was to present experiences with the Clavien-Dindo classification when applied to all patients on the general surgery ward of a tertiary referral care center.
Methods
We analyzed a period of 6 months of care on a ward with a broad range of general and visceral surgery. Discharge reports and patient charts were analyzed retrospectively and reported complications rated according to the most recent Clavien-Dindo classification version. The complexity of operations was assessed with the Austrian Chamber of Physicians accounting system.
Results
The study included 517 patients with 817 admissions, of whom 463 had been operated upon. Complications emerged in 12.5%, of which 19% were rated as Clavien I, 20.7% as Clavien II, 13.8% as Clavien IIIa, 27.6% as Clavien IIIb, 8.6% as Clavien IVa, and 10.3% as Clavien V. No Clavien grade IVb complication occurred within the investigation. Patients having undergone more complex surgery or with higher scores experienced significantly longer lengths of hospital stay.
Conclusion
The Clavien-Dindo classification can easily be used to document complication rates in general surgery, even though this collective was not included in the original validation studies of Clavien et al. and consisted of more heavily impaired patients.