01.10.2014 | original article | Ausgabe 19-20/2014 Open Access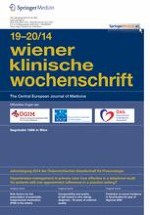 Evaluation of a meal replacement-based weight management program in primary care settings according to the actual European Clinical Practice Guidelines for the Management of Obesity in Adults
Zeitschrift:
Autoren:

Renate Kruschitz, Assoc.-Prof. Dr. Sandra Johanna Wallner-Liebmann, Harald Lothaller, Maria Luger, Karin Schindler, Friedrich Hoppichler, Bernhard Ludvik
Summary
Introduction
The purpose of this study was the evaluation of a weight loss program in primary care settings with respect to the European Clinical Practice Guidelines for the Management of Obesity in Adults with regard to the long-term success of changes in body weight and composition.
Methods
Overweight and obese patients (
n
= 1167) who underwent a standardized meal replacement-based weight loss program (myLINE
®
, AENGUS, Austria) in primary care settings were included in this evaluation. Body composition was measured by conventional anthropometry and bioelectrical impedance analysis (AKERN BIA101
®
, BIACORPUS RX4000
®
, SoftwareBodycomp Version 8.4 Professional). Data of patients who participated at least 12 months in the program were analyzed retrospectively and compared with their baseline data.
Results
After 12 months, a weight loss of 8.6 ± 7.5 kg (mean ± standard deviation) or 8.2 ± 7.8 % from baseline was seen (
p
< 0.001). In all, 71.9 % of all patients achieved a minimal weight loss of 5 %, and 18.8 % lost 15 % of their initial weight. In comparison with the baseline (35.7 ± 11.5 kg), body fat decreased to 29.6 ± 10.7 kg, which is 83.7 ± 18.9 % from baseline (100 %;
p
< 0.001). Body cell mass showed an absolute reduction of − 1.4 ± 2.2 kg (
p
< 0.001), although a relative increase of 1.5 ± 2.5 % (
p
< 0.001). There were no significant differences between male and female subjects regarding changes in weight, body fat, and body cell mass.
Conclusion
The evaluated program complies with the European Clinical Practice Guidelines for Management of Obesity in Adults (2008), which recommend a weight reduction of 5–15 % from initial weight within 6 months. Furthermore, the data showed a significant reduction of body fat and a relative increase of body cell mass.