18.09.2019 | main topic | Ausgabe 21-22/2019 Open Access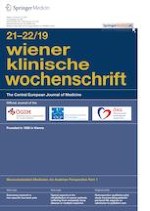 Establishing an online physical exercise program for people with hemophilia
Zeitschrift:
Autoren:

Dr. Barbara Wagner, Dr. Axel Seuser, Dr. Steffen Krüger, M.A. Marie Luca Herzig, Univ.-Prof. Dr. Dr. Thomas Hilberg, Assoc. Prof. Priv.-Doz. Dr. Cihan Ay, MSc, BSc Timothy Hasenöhrl, MBA, MSc Univ.-Prof. Dr. Richard Crevenna
Wichtige Hinweise
Publisher's Note
Springer Nature remains neutral with regard to jurisdictional claims in published maps and institutional affiliations.
Summary
Background
Hemophilia is a congenital bleeding disorder with an estimated frequency of 1:10,000 births. Repeated joint bleeding is a hallmark of the disorder and leads to painful hemophilic arthropathy. Regular exercise can help improve joint stability and function, reduce the risk of injury and bleeding and improve physical fitness and quality of life. This method paper describes an online training concept aiming to offer access to appropriate exercise instructions for people with hemophilia who are not able to attend regular training at a hemophilia center.
Methods
The online exercise program is accessible through the homepage of the Department of Physical Medicine, Rehabilitation and Occupational Medicine of the Medical University Vienna as well as through scanning a QR code printed on information material using a smart phone or tablet.
Results
The program contains exercises to improve mobility, coordination, muscular strength and flexibility. A brief introduction is given by a hematologist, a pediatrician and a physiatrist. An introductory video informs about contraindications and essential precautions, such as medical attendance and sufficient factor therapy to consider before starting the training. Another video gives advice on the exercise composition. The demonstrated exercises are explained by a physician and are available for adults and children. To individualize training recommendations and offer further diagnostic tools and physical treatment options as necessary, the Department of Physical Medicine, Rehabilitation and Occupational Medicine of the Medical University of Vienna will establish consultation hours for people with hemophilia.
Conclusion
As hemophilia is an orphan disease, patients are mainly treated in specialized centers. For patients who live far from these centers or have limited access to a training there for other reasons, the physical medicine consultation hour and the implementation of online exercise instructions offer individually adapted exercise information for a regular home-based training to benefit from increased physical fitness and joint stability.