01.09.2013 | original article | Ausgabe 3/2013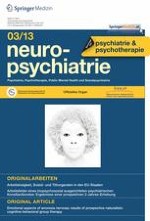 Emotional aspects of anorexia nervosa: results of prospective naturalistic cognitive behavioral group therapy
Zeitschrift:
Autoren:

PhD Susanne Ohmann, MD Christian Popow, Marcus Wurzer, MD Andreas Karwautz, PhD Petra Sackl-Pammer, PhD Bibiana Schuch
Summary
Background
Anorexic girls have difficulties in handling their emotions. We examined emotional problems of adolescent girls with anorexia nervosa (AN) during the course of cognitive behavioral group therapy (G-CBT).
Methods
Overall, 29 girls with AN (age 13–17 years) participated in four groups of manual based G-CBT. We assessed the body mass index (BMI), eating behavior psychopathology, emotions, depression, hedonistic activities, self-care and-efficacy, social phobia, sense of coherence (SOC), and alexithymia before, during and up to 1 year after therapy.
Results
Out of 29, 16 (55 %, intent to treat, or 76 %, per protocol) girls were successfully treated, 5 (17 or 24 %) had a "poor outcome", and 8 (28 %) dropped out. BMI, eating behavior, mood, social anxiety, self-care, and self-efficacy persistently improved. Anorexic girls had multiple emotional deficits, low self-confidence, and exaggerated needs of control and of being accepted. Emotional deficits were resistant to change. Hedonistic activities, social skills, and recovery from depression were positive, comorbid disorders and parental psychopathology negative prognostic factors.