01.03.2017 | original article | Ausgabe 5-6/2017 Open Access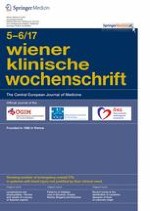 Displaced juvenile Tillaux fractures
Surgical treatment and outcome
Zeitschrift:
Autoren:

MD Thomas M. Tiefenboeck, Harald Binder, Julian Joestl, Michael M. Tiefenboeck, Sandra Boesmueller, Christian Krestan, Mark Schurz
Wichtige Hinweise
Author contribution statement
According to the definition given by the International Committee of Medical Journal Editors (ICMJE), the authors listed above qualify for authorship based on making one or more of the substantial contributions to the intellectual content of: (i) Conception and design [TT, MS]; and/or, (ii) Analysis and interpretation of data [TT, JJ, HB, MT, BS, CK, MS]; and/or (iii) Participated in drafting of the manuscript [TT, JJ, HB, MT, BS, CK, MS]; and/or (iv) Critical revision of the manuscript for important intellectual content [TT, JJ, HB, MT, BS, CK, MS].
Investigation performed at the Department of Trauma Surgery, Medical University of Vienna, Vienna General Hospital, Vienna, Austria.
Summary
Background
Approximately 15 % of all juvenile injuries of the long bones involve the epiphyseal growth plate, and 2.9 % of these are juvenile Tillaux fractures. The Tillaux fracture is of great importance because it involves a major weight-bearing articular surface. Treatment protocols in the literature are not uniform for this kind of fracture, and numerous case reports can be found describing various treatment methods. The aim of this study was to present the clinical outcome at long-term follow-up after treatment of displaced Tillaux fractures.
Methods
In all, 168 children and adolescent patients with physeal injuries of the distal tibia were treated from 2003 to 2012. Seven patients were identified as having Tillaux fractures requiring surgical treatment and therefore were included in our study and evaluated retrospectively.
Results
Seven patients with Tillaux fractures underwent surgical reconstruction by open or closed reduction. Excellent results were achieved in 90 % of the patients, with a mean Foot and Ankle Score at the last follow-up of 98.71.
Conclusion
Anatomical reduction is required for every displaced epiphyseal fracture via open reduction and internal fixation, especially in cases with ≥2 mm fragment displacement. Plaster cast immobilization and non-weight-bearing mobilization for at least 4 weeks might be a good way of ensuring optimal surgical results and preventing complications.