01.08.2013 | Original Article | Ausgabe 4/2013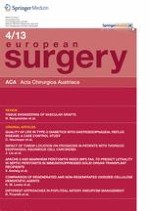 Different approaches in popliteal artery aneurysm management
Zeitschrift:
Autoren:

M. Taurino, F. Filippi, R. Ficarelli, C. Fantozzi, R. Dito, D. Brancadoro, L. Rizzo
Summary
Background
The purpose of the popliteal aneurysm surgical treatment is the prevention of thromboembolic events or the increase of the aneurysm size. Our prospectively collected data were analyzed with the aim to identify factors that could characterize the immediate and long-term success of the treatment, with particular regards to quality of life in terms of early recovery.
Materials and methods
From July 2004 to September 2012, 36 patients affected by 39 popliteal aneurysms have been treated. A total of 16 posterior accesses, 5 medial accesses, 12 above and below the knee joint medial accesses, and 6 endovascular accesses have been performed. Functional recovery, quality of life, as well as primary and secondary patency have been compared for different access.
Results
A complete sac excision before the graft repair has been obtained for all patients subjected to posterior or medial access with section of the goose foot tendons. The posterior access functional recovery has been compared with that of the patients subjected to medial access in terms of motility (
p
 = 0.0001). The average follow-up was 27 months; the primary patency was 87 % and the secondary one 96 %. The limb salvage rate was 100 %.
Conclusions
The posterior access offers a better aneurysm exposure and a better functional recovery.