04.02.2019 | original article | Ausgabe 5-6/2019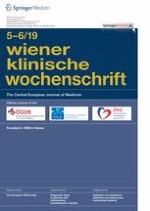 Diagnostic delay in patients with inflammatory bowel disease in Austria
Zeitschrift:
Autoren:

M.D Gottfried Novacek, M.D. Hans Peter Gröchenig, M.D. Thomas Haas, M.D. Heimo Wenzl, M.D. Pius Steiner, M.D. Robert Koch, M.D. Thomas Feichtenschlager, M.D. Gerald Eckhardt, M.D. Andreas Mayer, M.D. Andreas Kirchgatterer, M.D. Othmar Ludwiczek, M.D. Reingard Platzer, M.D. Pavol Papay, M.D. Johanna Gartner, M.D. Harry Fuchssteiner, M.D. Wolfgang Miehsler, M.D. Paul-Gerhard Peters, M.D. Gerhard Reicht, M.D. Harald Vogelsang, M.D. Clemens Dejaco, PhD Thomas Waldhör, Austrian IBD Study Group (ATISG)
Wichtige Hinweise
Electronic supplementary material
Conference presentation
This work was presented in part as a poster at the ECCO Congress, February 2017, at the annual meeting of the Austrian Society of Gastroenterology and Hepatology, June 2017, and at the United European Gastroenterology Week, October/November 2017.
Authors' contribution
GN, HPG, WM, CD, and TW made substantial contributions to the conception and design of the study. GN, HPG, TH, HW, PS, RK, TF, GE, AM, AK, OL, RP, PP, JG, HF, PGP, GR, and HV made substantial contributions to recruitment. GN, HPG, HW, WM, and TW made substantial contributions to acquisition, analysis, and interpretation of data. GN drafted the manuscript and all authors have reviewed and revised it. All authors approved the submission.
Publisher's Note
Springer Nature remains neutral with regard to jurisdictional claims in published maps and institutional affiliations.
Summary
Background
Delayed diagnosis seems to be common in inflammatory bowel diseases (IBD). The study was carried out to investigate the diagnostic delay and associated risk factors in Austrian IBD patients.
Methods
In a multicenter cross-sectional study adult patients with IBD attending 18 Austrian outpatient clinics completed a multi-item questionnaire that recorded medical and socioeconomic characteristics. The study outcome was diagnostic delay defined as the period from symptom onset to diagnosis of IBD.
Results
A total of 1286 patients (Crohn's disease 830, ulcerative colitis 435, inflammatory bowel disease unclassified 21; females 651) with a median age of 40 years (interquartile range 31–52 years) and a median disease duration of 10 years (4–18 years) were analyzed. The median diagnostic delay was 6 months (2–23 months) in Crohn's disease and 3 months (1–10 months) in ulcerative colitis (
p
 < 0.001). In the multivariable regression analysis Crohn's disease, greater age at diagnosis and a high educational level (compared to middle degree level) were independently associated with longer diagnostic delay.
Conclusion
The diagnostic delay was longer in Crohn's disease than in ulcerative colitis patients and was associated with greater age at diagnosis and a higher educational level.