01.02.2013 | Original Scientific Paper | Ausgabe 1/2013 Open Access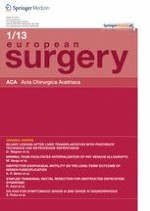 DG-RAR for the treatment of symptomatic grade III and grade IV haemorrhoids: a 12-month multi-centre, prospective observational study
Zeitschrift:
Autoren:

MD S. Roka, MD D. Gold, MD P. Walega, MD S. Lancee, MD E. Zagriadsky, MD A. Testa, MD A. N. Kukreja, MD A. Salat
Wichtige Hinweise
The data have been presented in part at the Annual Meeting of the German Coloproctological Society in 2011.
Authors have contributed either to the conception and design of the study (S. Roka, D. Gold, S. Lancee, A. Salat), the acquisition of data (all authors) or the analysis and interpretation of data (S. Roka, D. Gold, A. Salat). This article was drafted by S. Roka and A. Salat. All authors have revised this article critically and gave the final approval of the version to be published.
Summary
Background
Ultrasound-guided techniques represent a new treatment option in the treatment of haemorrhoids. Doppler-guided haemorrhoidal artery ligation (DG-HAL) proved efficacious in early haemorrhoidal disease, but lacks efficacy for stages III/IV. For these patients, haemorrhoidal artery ligation (HAL) has been combined with a running suture to reduce prolapsing haemorrhoidal tissue (recto-anal repair (RAR)).
Methods
A prospective observational study was conducted in 184 patients with grade III (58 %) or grade IV (42 %) haemorrhoids in seven coloproctological centres. Primary endpoints were the recurrence of symptoms and need of further treatment (medical or surgical).
Results
Post-operative complications were seen in 8 % of patients. After a follow-up of 3 months, 91 % of patients were free of symptoms and 91 % of patients were satisfied with the result. After a follow-up of 12 months, 89 % of patients were free of symptoms and 88 % were satisfied with the result. Nineteen per cent of patients received further medical or surgical treatment.
Conclusions
Doppler-guided recto-anal repair (DG-RAR) proves to be an effective treatment option for the treatment of advanced haemorrhoidal disease that shows equal results to other established treatment options.