01.02.2013 | review | Ausgabe 1/2013 Open Access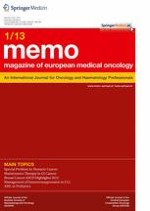 Development of treatment and clinical results in childhood acute myeloid leukemia in Poland
Zeitschrift:
Autoren:

MD Prof. Walentyna Balwierz, MD, PhD Katarzyna Pawinska-Wasikowska, MD, PhD Tomasz Klekawka, MD, PhD Malgorzata Czogala, MD, PhD Prof. Michal Matysiak, MD, PhD Barbara Fic-Sikorska, MD, PhD Prof. Elzbieta Adamkiewicz-Drozynska, MD, PhD Lucyna Maciejka-Kapuscinska, MD, PhD Prof. Alicja Chybicka, MD Kinga Potocka, MD, PhD Prof. Jacek Wachowiak, MD Jolanta Skalska-Sadowska, MD, PhD Prof. Jerzy Kowalczyk, MD, PhD Beata Wojcik, MD, PhD Prof. Mariusz Wysocki, MD, PhD Sylwia Koltan, MD, PhD Prof. Maryna Krawczuk-Rybak, MD, PhD Katarzyna Muszynska-Roslan, MD, PhD Prof. Wojciech Mlynarski, MD, PhD Malgorzata Stolarska, MD, PhD Tomasz Urasinski, MD, PhD Elzbieta Kamienska, MD, PhD Prof. Tomasz Szczepanski, MD, PhD Renata Tomaszewska, MD, PhD Grazyna Sobol, MD, PhD Agnieszka Mizia-Malarz, MD Grazyna Karolczyk, MD, PhD Joanna Podhorecka, MD, PhD Maria Wieczorek, MD, PhD Irena Karpinska-Derda, MD, PhD Wanda Badowska, MD, PhD Angelina Moryl-Bujakowska
Abstract
Background
Since 1983 four consecutive unified regimens: acute myeloid leukemia-Polish pediatric leukemia/lymphoma study group (AML-PPLLSG) 83, AML-PPLLSG 94, AML-PPLLSG 98 and AML-BFM 2004 Interim, for AML have been conducted by the Polish Pediatric Leukemia/Lymphoma Study Group (PPLLSG). In this paper, we review four successive studies on the basis of acute myeloid leukemia-Berlin–Frankfurt–Munster (AML-BFM) protocol, in which a stepwise improvement of treatment outcome was observed. Treatment results of the last protocol AML-BFM 2004 Interim are presented in detail.
Methods
Three hundred and three patients with
de novo
AML were treated according to the AML-BFM 2004 Interim at 15 Polish centers from January 1, 2005 to June 30, 2011. A confrontation with previous treatment periods was based upon historical, already published data.
Results
In four consecutive periods, 723 children were eligible for evaluation (208, 83, 195, and 237, respectively). Complete remission rates in consecutive periods were: 71, 68, 81 and 87 %, respectively. The 5-year overall survival rates, event-free survival rates, and relapse-free survival rates were 33, 32, and 45%, respectively for AML-PPLLSG 83 regimen; 38, 36, and 53 % respectively for AML-PPLLSG 94 regimen; 53, 46, and 65 % respectively for AML-PPLLSG 98 regimen, and 63, 52, and 64 % for AML–BFM Interim 2004, respectively. Incidence of early deaths and that due to complications (mainly infections) in the first remission decreased over time from 22 to 4.6 % and from 10 to 5.9 %, respectively.
Conclusions
Despite continuous improvement in the treatment outcome, the number of failures still remains too high. Further progress seemed to be possible due to continued cooperation of oncology centers within large international study groups.