01.02.2013 | short review | Ausgabe 1/2013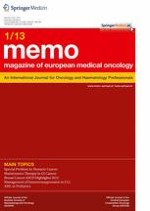 Development of treatment and clinical results in childhood acute myeloid leukemias in Hungary
Zeitschrift:
Autoren:

MD, PhD István Szegedi, Zsuzsanna Jakab, Péter Masát, Csongor Kiss, Hungarian Pediatric Hematology-Oncology Group (HPOG)
Wichtige Hinweise
I. Szegedi and Z. Jakab are equal opportunity first authors.
Abstract
Acute myeloid leukemias (AML) comprising approximately 15 % of pediatric leukemias account for 30 % of all leukemic deaths in children worldwide. The 5-year overall survival (OS) rate now reaches 60–65 % in Western Europe, North America, and the developed countries of Australasia due to risk-tailored chemotherapy and vigorous supportive care. According to data of the Childhood Cancer Registry of the Hungarian Pediatric Oncology-Hematology Group (HPOG), 234 children with AML were treated using the AML-IGCI-90, the AML-BFM-93 (1990–2000), and the AML-BFM-98 (2001–2011) protocols in Hungary. Four-year OS of patients was 34.5 % with the IGCI-90 and 47.9 % with the BFM-98 protocol. Mortality in AML is mainly associated with progressive disease; however, 5–15 % of patients die from treatment-related complications. We have retrospectively analyzed in detail the causes of death in a cohort of patients diagnosed between 2001 and 2011. There were 59 of 112 (52.6 %) fatal events registered until December 31, 2011. The main causes of deaths were progressive disease in 28 patients (47.4 %), infection in 21 patients (35.5 %), bleeding in 6 patients (10.4 %). Hematopoietic stem cell transplantation (HSCT) was carried out in 30 patients and there were 12 (12/59; 20.3 %) transplantation-related deaths of that transplantation-related graft-versus-host disease (GVHD) was seen in 3 patients (5.0 %). Second malignancy (a medulloblastoma) in 1 patient (1.7 %) occurred. HPOG follows the advanced diagnostic and treatment methods of the International BFM Study Group (I-BFM-SG). Unfortunately, treatment outcome measures do not reach that of working groups participating in I-BFM-SG AML clinical trials. The key for improving cure rates in Hungary is to decrease treatment-related mortality (TRM) by applying more vigorous supportive care for children with AML preferably within the frames of clinical studies.