01.12.2016 | short review | Ausgabe 4/2016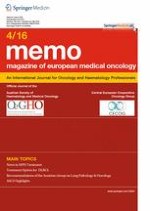 DA-EPOCH-R: An alternative treatment for high-risk diffuse large B cell lymphoma?
Treatment intensity and outcome in newly diagnosed myeloma patients
Zeitschrift:
Autoren:

Michael Panny, Thomas Nösslinger
Summary
Diffuse large B cell lymphoma (DLBCL) is the most common type of non-Hodgkin lymphoma with an annual incidence of 7–8 cases per 100,000 per year. With standard induction therapy comprising rituximab, cyclophosphamide, doxorubicin, vincristine, and prednisone (R/CHOP), 40% of all patients get cured. Patients relapsing or being refractory to R/CHOP have a poor prognosis with a 10 % cure rate. On the other hand, the prognosis for patients with an event-free survival of 24 months is excellent. Despite the possibility of identifying patients at high risk for R/CHOP failure at the time of diagnosis, to date, an adequate risk-adapted induction has not been established. Dose-adjusted application of rituximab, etoposide, prednisone, vincristine, cyclophosphamide, and doxorubicin (DA-EPOCH-R) is a pharmacodynamic approach to improve R/CHOP by the addition of etoposide, prolonged exposure to chemotherapy agents (continuous infusion of etoposide, vincristine, and doxorubicin over 96 h) and dose adjustment based on the absolute neutrophil count nadir. DA-EPOCH-R has shown promising results in retrospective analyses of various high-risk DLBCL cases. The following article reviews various approaches to define and to treat patients with high-risk DLBCL with a focus on treatment with DA-EPOCH-R.