19.07.2018 | review | Ausgabe 3/2018 Open Access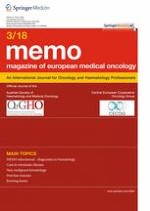 Current concepts and future directions in neoadjuvant chemotherapy of breast cancer
Zeitschrift:
Autoren:

Rupert Bartsch, Elisabeth Bergen, Arik Galid
Introduction
The concept of preoperative chemotherapy was introduced nearly half a century ago in the treatment of patients with locally advanced, inoperable breast cancer [
1
]; this role changed over the following decades and today, neoadjuvant administration of chemotherapy is regarded as a potential standard approach whenever chemotherapy is indicated in principle [
2
]. Moreover, the consensus of the 2017 St. Gallen International Breast Cancer Conference defined neoadjuvant therapy as the preferred treatment approach for stage II/III triple-negative and HER2-positive breast cancer [
3
]. Of note, preoperative chemotherapy allows for disease downstaging and increases breast conservation rates; pathologic complete remission (pCR), however, is today regarded as the most pertinent endpoint [
4
].
National Surgical Breast and Bowel Project (NSABP) trial B‑27 investigated the addition of four cycles of pre- or postoperative docetaxel to four cycles of AC (doxorubicin/cyclophosphamide) [
5
] and neoadjuvant administration of docetaxel yielded a significant pCR improvement from 12.9% (AC) to 26.1% (AC-docetaxel). Importantly, a positive correlation of pCR with overall survival (OS) was reported as well. This observation eventually led to a multitude of studies aiming at increasing pCR rates by adding further chemotherapeutic agents, introducing new drugs instead of older ones, or adding biologically targeted agents such as antibodies or small molecules to standard treatment. In this context, the definition of pCR is relevant and today, pCR usually refers to a complete remission of invasive disease (with or without presence of ductal carcinoma in situ) in breast and axilla as this definition discriminates best between patients with favourable and unfavourable prognosis [
6
].
The prognostic role of pCR
The role of pCR as surrogate for improved long-term outcome on an individual patient level in high-risk breast cancer subtypes was high-lighted by two large meta-analyses of neoadjuvant trials [
6
;
7
]. In contrast, no clear correlation of the pCR delta with disease-free survival (DFS) or overall survival (OS) could be established on a trial level hitherto [
7
]. Recently, however, long-term results of the prospective randomized phase III German Breast Group (GBG) GeparSepto trial were presented [
8
]. In this study, substitution of conventional paclitaxel by nanoparticle-albumin bound (nab) paclitaxel resulted in a significant increase in pCR rates from 29 to 38% (odds ratio [OR] 1.53; 95% confidence interval [CI] 1.20–195;
p
 = 0.00065) with the greatest effect in triple-negative breast cancer (TNBC) [
9
]. At a median follow-up of 49 months, this pCR difference resulted in a significant reduction of recurrence risk by absolute 6.4% (hazard ratio [HR] 0.69; 0.54–0.89). While this outcome was similar in all of the predefined subgroups, it was most pronounced in tumours with low proliferation rate (test for interaction
p
 = 0.046). In TNBC, the DFS benefit in the nab-paclitaxel group was within the range predicted from the observed pCR difference; in luminal breast cancer, however, a residual effect of better chemotherapy beyond pCR must be assumed as the pCR delta was smaller in this patient subset. In summary, these data suggest that pCR most probably translates into superior outcome not only on an individual patient level but also on a trial level and is therefore a valid surrogate endpoint that has been accepted by the US Food and Drug Administration for the approval of new anti-ancer agents.
In light of the prognostic role of pCR, several studies aimed to identify biomarkers predicting for the probability of achieving pCR. Higher rates of tumour-infiltrating lymphocytes (TILs) were linked to higher pCR rates in triple-negative and HER2-positive breast cancer [
10
] while on the other hand,
PIK3CA
mutations predict lower pCR rates in HER2-positive disease [
11
]. In addition, studies investigating postneoadjuvant therapy in patients not achieving pCR in order to improve long-term outcome are ongoing. Among them, the KATHERINE study comparing adjuvant T‑DM1 to standard adjuvant trastuzumab appears to be the most promising (NCT01772472).
Improving pCR rates
Summary
Neoadjuvant chemotherapy has become a potential standard treatment approach and is regarded as the preferred treatment strategy in HER2-positive and triple-negative early stage breast cancer. As pCR predicts for improved long-term outcome, clinical trials commonly focus on increasing pCR rates. With the marked exception of carboplatin, adding further chemotherapeutic agents has been of limited success; in contrast, addition of anti-HER2 targeted agents has vastly improved pCR rates in HER2-positive disease and may even allow for chemotherapy de-escalation. Finally, promising novel strategies, among them immune checkpoint inhibitors, are currently under clinical investigation.
Conflict of interest
R. Bartsch: Roche AdBoards, lecture honoraria, travel and research support, Celgene AdBoards, lecture honoraria, Astra Zeneca Ad Boards, lecture honoraria. E. Bergen and A. Galid declare that they have no competing interests.
Open Access
This article is distributed under the terms of the Creative Commons Attribution 4.0 International License (
http://​creativecommons.​org/​licenses/​by/​4.​0/​
), which permits unrestricted use, distribution, and reproduction in any medium, provided you give appropriate credit to the original author(s) and the source, provide a link to the Creative Commons license, and indicate if changes were made.