01.08.2013 | Original Article | Ausgabe 4/2013 Open Access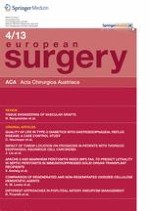 Comparison of regenerated and non-regenerated oxidized cellulose hemostatic agents
Zeitschrift:
Autoren:

DVM K. M. Lewis, PhD D. Spazierer, HT (ASCP) M. D. Urban, PhD L. Lin, PhD H. Redl, PhD A. Goppelt
Summary
Background
Oxidized cellulose is a well known and widely used surgical hemostat. It is available in many forms, but manufactured using either a nonregenerated or regenerated process.
Objective
This study compares the fiber structure, pH in solution, bactericidal effectiveness, and hemostatic effectiveness of an oxidized nonregenerated cellulose (ONRC; Traumastem®) and an oxidized regenerated cellulose (ORC; Surgicel® Original).
Methods
In vitro, fiber structures were compared using scanning electron microscopy, pH of phosphate buffer solution (PBS) and human plasma were measured after each cellulose was submerged, and bactericidal effect was measured by plating each cellulose with four bacteria. In vivo, time to hemostasis and hemostatic success were compared using a general surgery nonheparinized porcine liver abrasion model and a peripheral vascular surgery heparinized leporine femoral vessel bleeding model.
Results
Ultrastructure of ONRC fiber is frayed, while ORC is smooth. ORC pH is statistically more acidic than ONRC in PBS, but equal in plasma. No difference in bactericidal effectiveness was observed. In vivo, ONRC provided superior time to hemostasis relative to ORC (211.2 vs 384.6 s,
N
= 60/group) in the general surgery model; and superior hemostatic success relative to ORC at 30 (60 vs. 15 %; OR: 13.5; 95 % CI: 3.72–49.1,
N
= 40/group), 60 (85 vs. 37.5 %; OR: 12.3; 95 % CI: 3.66–41.6), and 90 s (97.5 vs 70.0 %; OR: 21.1, 95 % CI: 2.28–195.9) in the peripheral vascular model.
Conclusion
ONRC provides superior hemostasis and equivalent bactericidal effectiveness relative to ORC, which is likely due to its fiber structure than acidity.