05.12.2018 | original article | Ausgabe 7-8/2019 Open Access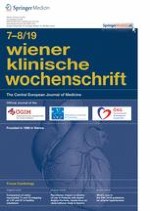 Comparison of native myocardial T1 and T2 mapping at 1.5T and 3T in healthy volunteers
Reference values and clinical implications
Zeitschrift:
Autoren:

Marcel Granitz, Lukas J. Motloch, Christina Granitz, Matthias Meissnitzer, Wolfgang Hitzl, Klaus Hergan, Alexander Schlattau
Wichtige Hinweise
M. Granitz and A. Schlattau contributed equally to this work.
Introduction
Subjects and methods
Results
All 120 CMRI scans were carried out without adverse events. The scan was incomplete in one subject due to technical problems and two subjects had to be excluded due to the detection of a chronic disease (sarcoidosis and an atrial septal defect II, respectively). Therefore, 115 examinations in 58 subjects were available for further analysis. The T1 and T2 maps at 1.5T were available for 57 subjects, T1 and T2 maps at 3T were available for 58 subjects. Due to malpositioning of the basal slice too close to the atrioventricular plane 15 segments (1.6%) had to be eliminated from the T1 measurements at 1.5T, 10 segments (1.1%) from T1 at 3T, 15 segments (1.6%) from T2 at 1.5T and 21 segments (2.3%) from T2 at 3T measurements. Females and males showed no statistically significant differences with respect to age, heart rate and body mass index (Table
1
).
T1 mapping
T2 mapping
Discussion
This study was designed to establish reference values for T1 and T2 relaxation times in healthy volunteers for our specific setting at 1.5T and 3T. Furthermore, the correlation between the intra-individual global T1 and T2 values at different field strengths was studied and published data concerning possible influences of physiological factors on relaxation times were reproduced.
There are several limitations to this study. This was a single center study of moderate sample size using MRI scanners from only one manufacturer. Therefore, a center-specific and manufacturer-specific bias cannot be excluded. No histological examination of the myocardium was performed. In the post-processing phase no program for motion correction was available which led to higher exclusion-rates of myocardial segments. Despite the relatively small size of the cohort results of studies using similar mapping techniques could be reproduced. This underlines the validity of these reference values and implications. As specified above, two thirds of the patients undergoing CMRI evaluation were below the age of 60 years. Therefore, this cohort consisted of younger volunteers, which might obscure a pre-described age dependency of relaxation times in the aged myocardium. These normal values can only be applied and generalized in younger patients in institutions using similar mapping techniques to ours.
Conclusion
The results obtained during daily clinical practice in healthy volunteers indicated that T1 and T2 relaxation times showed gender and heart rate dependencies, even in T1 maps using a less heart rate sensitive MOLLI variant. Due to artifacts caution should be applied especially while performing T2 mapping at 3T and while measuring relaxation times in the inferolateral wall. As already pointed out in the consensus statement by the Society for Cardiovascular Magnetic Resonance (SCMR) endorsed by the European Association for Cardiovascular Imaging (EACVI) [
14
], we also highlight that reference values have to be reassessed in every radiological institution before implementing mapping protocols in daily clinical practice. Furthermore, to the best of our knowledge, the presumed correlation of intra-individual global T1 and T2 values measured at 1.5T and 3T could be demonstrated for the first time in a larger cohort.
Acknowledgements
The authors thank Andrea Ladinger for support regarding organization and performing the MR examinations with her team, Bernhard Schnackenburg for the appropriation and optimization of mapping sequences and Kristen Kopp for English editing.
Conflict of interest
M. Granitz, L.J. Motloch, C. Granitz, M. Meissnitzer, W. Hitzl, K. Hergan, and A. Schlattau declare that they have no competing interests.
Open Access
This article is distributed under the terms of the Creative Commons Attribution 4.0 International License (
http://​creativecommons.​org/​licenses/​by/​4.​0/​
), which permits unrestricted use, distribution, and reproduction in any medium, provided you give appropriate credit to the original author(s) and the source, provide a link to the Creative Commons license, and indicate if changes were made.