01.08.2017 | original article | Ausgabe 15-16/2017 Open Access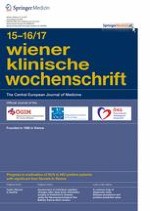 Clinicopathological characteristics of thyroid cancer in the federal state of Salzburg
Zeitschrift:
Autoren:

Gundula Rendl, Margarida Rodrigues, Gregor Schweighofer-Zwink, Josef Hutter, Anton Hittmair, Barbara Zellinger, Cornelia Hauser-Kronberger, MD Prof. Christian Pirich
Summary
Objective
The aim of our investigation was to evaluate the clinicopathological characteristics and mutation patterns in newly diagnosed cases of thyroid cancer in the federal state of Salzburg, Austria, in the year 2013.
Methods
The medical records of all patients newly diagnosed with thyroid cancer in 2013 in the federal state of Salzburg were retrospectively reviewed. The clinicopathological characteristics and mutations of thyroid cancers were analyzed.
Results
63 patients (mean age: 51.0 years, range: 21–81 years; female 75%, male 25%) were identified. 53 patients had papillary (12 follicular variant), 4 patients follicular (1 oxyphilic variant), 3 patients medullary, and 3 patients anaplastic thyroid cancer. T1 tumors were found in 34 patients (pT1a, 20 patients; pT1b, 14 patients), T2 tumors in 10 patients, T3 tumors in 16 patients, and T4 tumors in 3 patients. Lymph node involvement was seen in 15 patients and metastatic disease in 1 patient. Mutations of BRAF (B-type Raf kinase) were detected in 23 and mutation of NRAS (Neuroblastoma RAS Viral Oncogene Homolog) in 2 papillary thyroid cancers. No concomitant mutations of BRAF and NRAS were found.
Conclusion
Females accounted for 75% of the patients with newly diagnosed thyroid cancer and the incidence peaked at a younger age than in males. Papillary thyroid cancer was the most frequent tumor type, accounting for 84% of the cases. A high frequency of T1 tumors and cancers with no lymph node involvement was found. Males had a higher proportion of large tumors and more aggressive forms of thyroid cancer than females. Mutations (mostly of BRAF) were found in 47% of the cases. Neither mutations of KRAS (Kirsten rat sarcoma viral oncogene homologue) nor concomitant mutations of BRAF and NRAS were found.