20.07.2018 | Chirurgie | DFP-Fortbildung | Ausgabe 6/2018 Open Access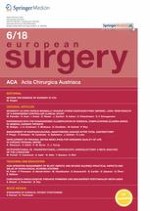 Non-operative management of blunt hepatic and splenic injuries–practical aspects and value of radiological scoring systems
Zeitschrift:
Autoren:

Margot Fodor, Florian Primavesi, Dagmar Morell-Hofert, Matthias Haselbacher, Eva Braunwarth, Benno Cardini, Eva Gassner, MAS, MSc., FACS Univ.-Prof. Dr. Dietmar Öfner, Stefan Stättner
Summary
Background
Non-operative management (NOM) of blunt hepatic and splenic injuries has become popular in haemodynamically stable adult patients, despite uncertainty about efficacy, patient selection, and details of management. Up-to-date strategies and practical recommendations are presented.
Methods
A selective literature search was conducted in PubMed and the Cochrane Library (1989–2016).
Results
No randomized clinical trial was found. Non-randomized controlled trials and large retrospective and prospective series dominate. Few systematic reviews and meta-analyses are available. NOM of selected patients with blunt liver and spleen injuries is associated with low morbidity and mortality. Only data of limited evidence are available on intensity and duration of patient monitoring, repeat imaging, antithrombotic prophylaxis and return to normal activity. There is high-level evidence on early mobilisation and post-splenectomy vaccination.
Conclusion
NOM of blunt liver or spleen injuries is a worldwide trend, but the literature does not provide high-grade evidence for this strategy.