09.08.2018 | original article | Ausgabe 21-22/2018 Open Access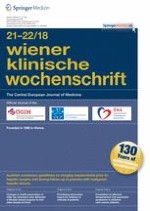 Changes in health parameters in older lay volunteers who delivered a lifestyle-based program to frail older people at home
Zeitschrift:
Autoren:

Igor Grabovac, Sandra Haider, Eva Winzer, Ali Kapan, Karin E. Schindler, Christian Lackinger, Thomas E. Dorner
Summary
Objective
To measure health effects in lay volunteers who made home visits consisting of social interaction, nutritional and physical exercise interventions to pre-frail and frail older people (trial registration ClinicalTrials.gov, NCT01991639).
Methods
After baseline, participants were followed-up at 12 (V1) and 24 (V2) weeks. A one-repetition maximum (1-RPM) and handgrip were measured with the Concept2
®
DYNO and a dynamometer. The Physical Activity Scale for the Elderly was used to assess physical activity, and Food Frequency Questionnaire and the Mediterranean Diet Adherence Screener for nutrition. Additionally, quality of life (QoL) was measured with the World Health Organization (WHO) quality of life brief questionnaire and anthropometric measurements were performed using bioelectrical impedance analysis.
Results
Handgrip values significantly increased from 32.14 ± 7.94 kg to 33.69 ± 6.72 kg at V1 and 34.36 ± 6.96 kg at V2. The 1‑RPM on the leg press showed a significant increase from 72.47 ± 25.37 kg to 78.12 ± 23.77 kg and 80.85 ± 27.99 kg, respectively. We observed a significant decrease of protein intake from 0.38 ± 0.26 g/kgBW/day to 0.32 ± 0.19 g/kgBW/day and 0.26 ± 0.16 g/kgBW/day, respectively. There were no changes in physical activity, QoL and anthropometric measurements.
Conclusion
The findings indicate that projects involving aging healthy volunteers may have additional limited health benefits.