22.05.2021 | short review | Ausgabe 2/2021 Open Access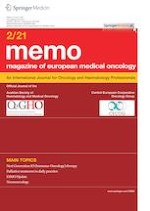 Brain metastases: new systemic treatment approaches
Zeitschrift:
Autoren:

MD PhD Ariane Steindl, Anna Sophie Berghoff
Wichtige Hinweise
Publisher's Note
Springer Nature remains neutral with regard to jurisdictional claims in published maps and institutional affiliations.
Summary
Background
Brain metastases (BM) still present a clinical challenge in oncology. Treatment of BM was mainly based on local approaches including neurosurgery and radiation. However, the fraction of patients with asymptomatic BM has risen over the last decade. Recent clinical trials on immune- and targeted therapies showed promising intracranial responses—especially in neurological asymptomatic status. Therefore, systemic treatment presents an emerging therapy approach specifically in patients with asymptomatic BM.
Methods
The present review highlights the recent advances in systemic therapeutic and preventive approaches in BM focusing on the main BM causing tumors: non-small cell lung cancer (NSCLC), melanoma and breast cancer.
Results
Remarkable intracranial efficacies were presented for several next-generation tyrosine kinase inhibitors (TKIs) and immune checkpoint inhibitors, especially in asymptomatic BM patients. In NSCLC, osimertinib and afatinib presented intracranial response rates over 80%. Osimertinib showed even a potential for primary BM prevention. Considerable intracranial response rates were observed for the combination of dabrafenib and trametinib in BRAF mutated melanoma BM. Combined ipilimumab and nivolumab treatment in asymptomatic melanoma BM even presented with similar intra- and extracranial response rates. In breast cancer, HER2-targeted TKIs like lapatinib in combination with chemotherapy, or trastuzumab deruxtecan monotherapy presented also notable intracranial response rates.
Conclusion
New developments in targeted and immune-modulating therapies have postulated high intracranial efficacies in patients with BM from different solid tumors. However, more BM-specific studies and BM-specific endpoints in registration trials are warranted to underscore the role of systemic treatment in patients with BM.